Landscaping, Hardscaping, & Lawn Care Services in Crescent Beach, FL
Just south of the number one beach in the nation, Siesta Key, Crescent Beach is a small enclave with beautiful views of the ocean ahead. This small community is made up of residents and tourists seeking to bask in the sun and enjoy the cool waves of this crescent-shaped oasis. If you ever find yourself wanting to visit Crescent Beach, there are a plethora of nearby cottages, condos, and beach house rentals right along the coast. Surfing, boogie boarding, boating, and swimming all await you when your step onto this sandy beach. Not only that, you're in close proximity to the most sought-out snorkeling destination in Sarasota, The Point of Rocks. Visitors travel from all over to see intriguing coral rock formations and fascinating marine life.
The population of this little beach community is just under 1,000 residents who enjoy the outdoors and strive to keep it beautiful. Our company has been helping Crescent Beach residents achieve immaculate landscapes since 2007. We'll make it our mission to give you the landscape and outdoor living area you've always dreamed of!
---
Landscaping services include designs, installations, and renovations.
We leave no stone unturned when it comes to our landscaping services. Whether you need an entirely new landscape installation or simply want to redesign your existing one, we have the experience and skill to create something beautiful. Some of our favorite landscape plantings include dazzle sheflera, royal palms, and philodendrons. The front of your property is a reflection of who you are but your backyard is your gathering space for long-lasting memories and stories. Our team can create an outdoor living area that embodies everything you're looking for in a backyard oasis.
Take a look at our full list of landscaping services:
---
Full-service maintenance, lawn care, insect control, and irrigation services.
Your property needs a certain amount of TLC and attention to maintain a polished appearance. We offer a full-service maintenance program that includes routine services like mowing, string-trimming, edging, and blowing. Scheduled options include a 40-week or 52-week maintenance program to accommodate the individual needs of your property. Lawn care services like fertilization, weed control, irrigation maintenance, and insect control keep your grass healthy and green all year long.
Take a look at our full list of lawn care services:
---
Commercial Property Maintenance Services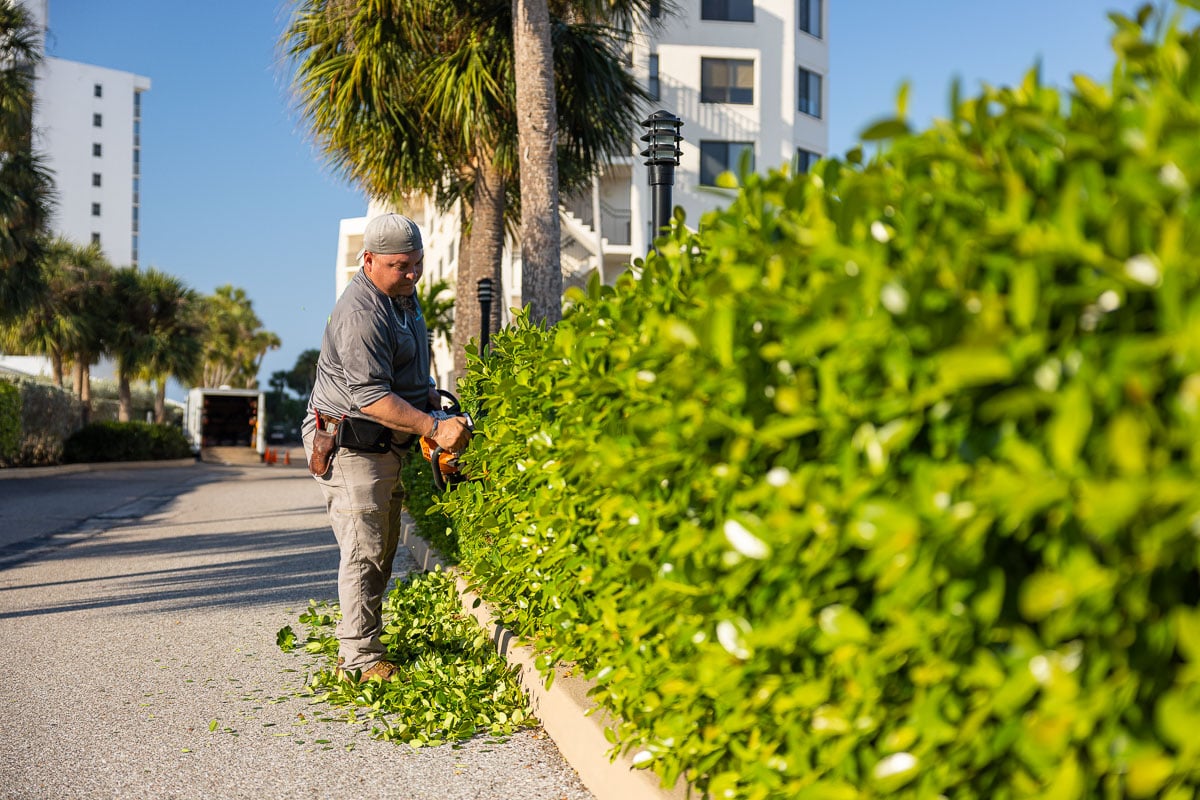 Business owners have the duty of ensuring their commercial property is always in pristine condition. Customers aren't very likely to visit a property that's fallen into disarray or displaying a messy appearance. We can take this task off your hands with our commercial property services that include routine maintenance, landscape bed weed control, palm tree & ornamental plant care, fertilization treatments, and more essential lawn care services.
Take a look at our commercial property services:
---
Want comprehensive lawn care and landscaping for your property? Give us a call today!
Forget about trying to juggle the upkeep and maintenance of your property. Let us do all the work for you! Not only will we keep your lawn green and lush, but we'll also enhance your landscape with vibrant plantings and gorgeous hardscape features. We are the #1 landscaping company in Crescent Beach, FL, call us at (941) 993-2442 to schedule a service for your property today!