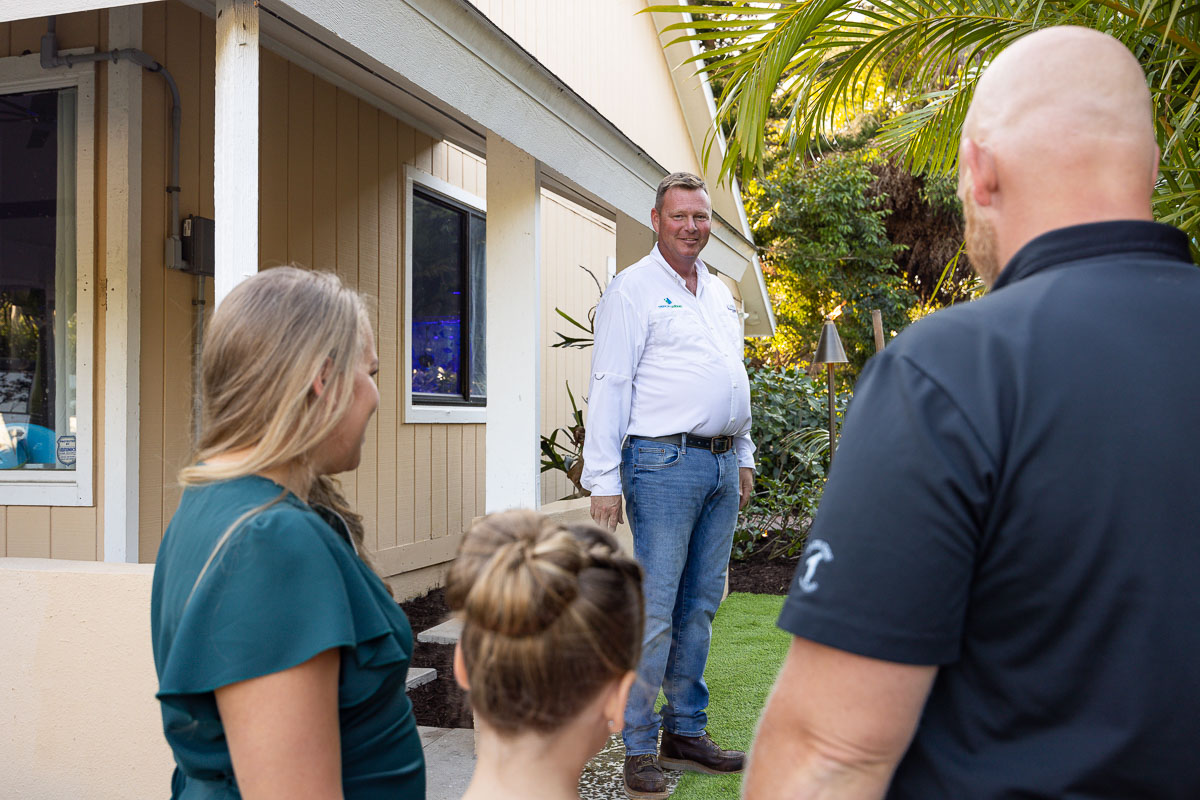 Frequently Asked Questions
Landscape Design & Installation FAQs
Once I accept my quote, how long will it take before you can start our project?

We generally are scheduling 30-60 days out on Landscape Project work. This can be affected by lead times for materials selected.
What should I expect to budget for my landscape project?

This answer depends heavily on the scope of the project. A good range for planting renovations would be 5-10% of your current home value. If you are planning outdoor living areas, such as patios, pergolas, water features, artificial turf, and lighting projects, we recommend 15-20% as a qualified budget range.
Who handles utility locating?

Florida requires that the contractor performing the work calls in to locate it with Sunshine 811. Tropical Gardens will call utility locates between 3-5 days prior to the scheduled start date of your project.
Is there a cost for the landscape design?

Yes, we have Design Fees that range from $750 - $2500 for a comprehensive Landscape Plan. Your Landscape Designer will go over the scope of work with you in the consultation to determine the amount of work involved. If there will be construction plans required for Hardscape, Drainage, Irrigation, Tree Mitigation, and Lighting, this will all determine the costs associated with your plans.
Is there a cost for an on-site consultation with a designer?

Yes, there is a $150 fee for one of our designers to visit your property and spend 1 hour with you walking the property, discussing your needs and wants, color palette, and going over budgets and construction document needs. They will also verify the accuracy of your survey and take photos of the property while onsite for the concept phase.
Why should I hire a professional landscape designer?

There are three reasons to hire a professional landscape designer.

1. You will get a great plan by an experienced designer who is knowledgeable of proper material. selection, sight lines from your home, water requirements, best use of outdoor spaces, etc.

2. You get an organized set of construction documents for planting, irrigation and drainage layout, lighting, permitting, and construction.

3. Our design firm can also perform all aspects of the construction process in-house. This way, there is a seamless transition to the ordering of the proper materials, scheduling, and crews that understand the build process and can implement the design with years of installing plans from that designer.
How is project scheduling handled?

Projects are scheduled on a first-come, first-served basis. Once we have received the contract acceptance, and the deposit is paid, we schedule your project based on the next available dates. Once we begin your project, our crews will be on site until they have completed it, we never leave your project to start another prior to completion.
Who will manage my project Installation?

Your project will have an on-site Project Manager that supervises the entire scope. From the first day, through the layout and phases of different crews, to the final walkthrough, will all be handled by your Project Manager. He/She will work closely with your designer to address any questions and can even help with any potential changes or requests.
Once my project is done, who will I get to maintain it?

Any project designed and installed by Tropical Gardens can be maintained by us. This would include our Total Maintenance Package which consists of Mowing, Bed Weed Control, Shrub / Tree / Palm Trimming, Plant Heath Care, Lawn Health Care, and Irrigation Maintenance.
How do I communicate with Tropical Gardens once I have accepted my quote?

You will be assigned an Account Manager upon acceptance of your maintenance quote. He/She will contact you within 7 days, providing you with their cell phone and email. Your Account Manager will be responsible for all requests related to your maintenance and enhancement needs, yet you can always contact our office as well.
Do your crews speak English?

Our Crew Leaders are required to speak English for the position. They need to be able to document and report issues on your property within the system, as well as read the job notes provided by their Account Manager and our office staff. We ask that you contact your assigned Account Manager or our Office Staff with any requests or concerns about your property so that we can mediate their time spent on properties and keep their schedules.
How experienced are your crews?

We pride ourselves in the training and expertise of maintenance crews. From proper pruning practices to maintaining personal horticulture and pest licensing, our crews are dedicated to maintaining the best gardens in the Sarasota area!
Will we receive weekly service in the winter months?

There are a few different options for Maintenance packages. We have a 51-visit package, which is best for a property that is a vacation rental and should get weekly visits year around or if you have a property that has trees that are semi-deciduous (Oak, Shady Lady, etc). We also have a 42-visit package for smaller properties that do not require pruning events or leaf cleanup in the winter months. This package is bi-weekly in the November-March months.
How does payment for maintenance services work?

We require a credit card to be put on file and charge your card on the 15th of each month for maintenance services performed for that month. For example, in October we will charge your card for all October services on October 15th. You will still receive an invoice each month.
Does Tropical Gardens sub-contract Fertilization and Pest Control?

No, we have an in-house Fertilization and Pest Control Division. We are aware that most landscape maintenance companies in the area need to sub these services. We have found that this is an area of concern for homeowners, as there is too much of the "blame game" that happens when sub-contractors are used. No one wants to take responsibility for the issues and we want to be the one company that is responsible!