We offer professional lawn care services to homes and businesses in Bradenton, FL.
Boost your lawn's health with our lawn care services, including fertilization, weed control, grub control, and more.
The friendly city of Bradenton, FL is located south of Tampa Bay along the Manatee River and has a population of over 55,000 people. If you're looking to enjoy the beauty of Bradenton, you can visit the Robinson Nature Preserve which features walking trails and an abundance of wildlife. If you'd like to take a long walk while admiring the ocean, you can visit the Riverwalk in Bradenton.
Whether you own a home or business in this lively city, we can help you create a beautiful lawn with our lawn care services. We offer fertilization and weed control treatments to boost your lawn's health and treatments for grub and fire ant control. Our experts will also ensure your palm trees and ornamental plants remain robust.
---
Set Up Your Lawn For Success With Our Lawn Care Services
We offer exceptional lawn care services to property owners in Bradenton, FL. If you want your lawn to flourish, you must ensure it receives essential nutrients that promote healthy growth and a lush appearance. Our team at Tropical Gardens Landscape offers fertilization treatments that will cater to your turf's needs. We will design a program for your grass that considers critical factors like soil fertility, grass type, and more to maximize the effects of our treatments.
To keep weeds from competing with your grass for nutrients, we apply pre-emergent and post-emergent weed control treatments depending on the season. Our pre-emergent treatments will prevent weed seeds from germinating, while our post-emergent herbicides will eliminate existing weeds that have taken root already in your lawn.
Your grass is also vulnerable to the root-munching larvae of Japanese beetles, grubs. Our conditions in and around Bradenton, FL provide grubs with the perfect environment to breed. That is why we offer preventative grub control treatments that can prevent these pests from damaging your turf. We also offer curative treatments if your lawn is already dealing with a grub infestation.
Another common enemy for lawns in Bradenton, FL are fire ants. The bites of these insects are painful and can also cause anaphylactic shock to those allergic to them. Our fire ant control treatments target underground fire ant colonies and tunnels using an EPA-approved chemical.
Our lawn fertilization treatments adhere to guidelines set by Sarasota County to help protect the environment.
---
Keep your palm trees and ornamental plants healthy and thriving.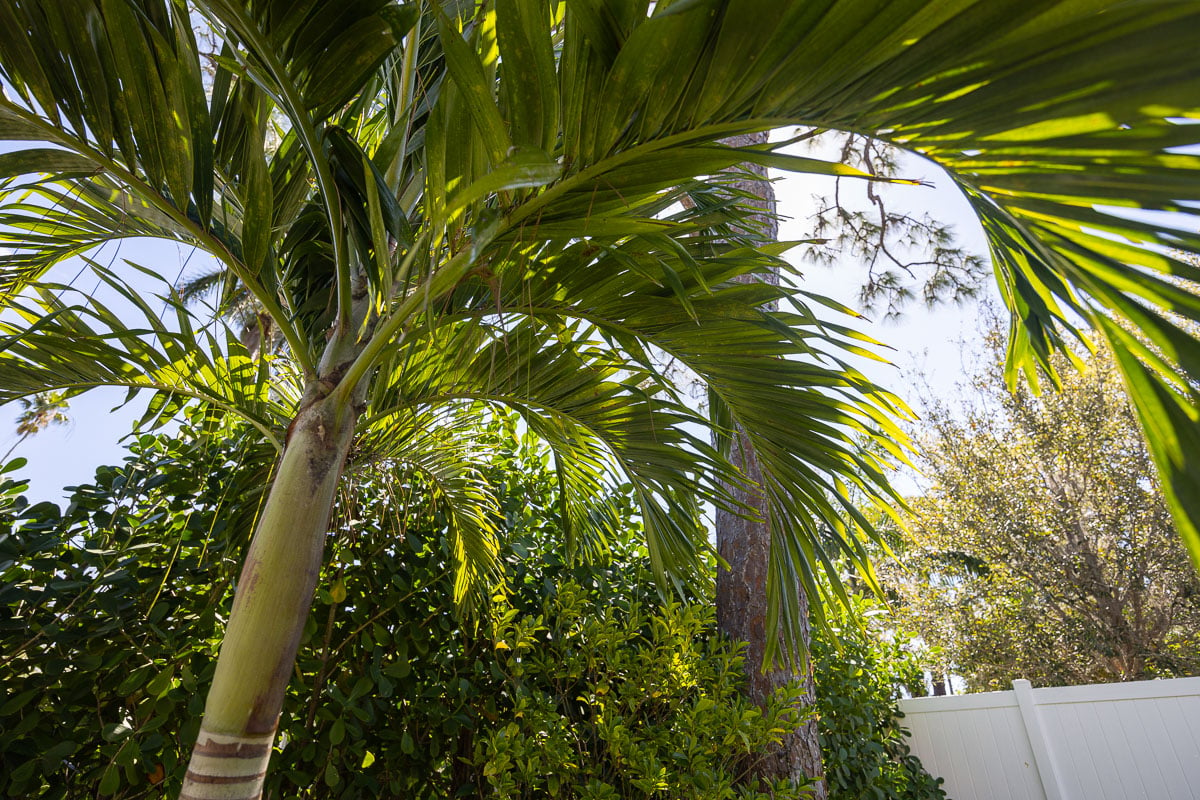 Of course, we can't forget about your palm trees and ornamental plants. Our team offers palm and ornamental health treatments to look after the health of your beautiful plants and ensure they look always look their best. Aside from fertilization treatments, we will keep a watchful eye out for insect infestations and diseases that are common in Bradenton, FL.
Some types of palm trees that we take care of include alexander palms, coconut palms, royal palms, and more. We also look after shrubs such as Iris Regina, copper leaf, bougainvillea, and the tropical beauty of hibiscus.
---
Give us a call today to schedule any of our lawn care services.
At Tropical Gardens Landscape, we offer exceptional lawn care services to commercial, residential, and HOA property owners in Bradenton, FL and throughout the surrounding areas. We are committed to delivering exceptional results for all of our clients. So, whether you're looking for fertilization and weed control treatments, grub and fire ant control treatments, palm and ornamental palm care treatments, or all of the above, we are the company to turn to. Call us today at (941) 993-2442 to schedule.