Full-services lawn care, landscaping, and maintenance company that services residential and business properties in Lido Key, FL.
Services include hardscaping, new landscape installation, fertilization and weed control, landscape lighting, irrigation services, and ongoing maintenance.
The charming island of Lido Key is a getaway for Floridians, and one looks no further than sandy beaches and luxury properties to get a feel for this hidden gem off of Florida's Gulf Coast. In 1926 the island was opened to vehicles and the Lido Beach Casino was constructed, but by 1950 the casino began failing and was demolished in 1969 by the city of Sarasota. Lido Key island is now known for luxurious beaches, outdoor activities, and a laid back vibe.
For properties in or around Lido Key, FL, we offer professional lawn care and maintenance services that include mowing, landscaping, landscape lighting, irrigation, fertilization, weed control, hardscaping, and many other services. Learn more about our broad-spectrum services.
---
Hardscaping services can increase your property value.
The hard components of landscaping, also known as hardscaping elements, are a known way to increase property value and up the curb appeal of a home or business. We can handle just about any design vision for any property.
Our team has worked with a wide variety of property types in Lido Key, and we understand how to build outdoor features that blend seamlessly with the property and buildings.
Among our hardscaping services, Tropical Gardens Landscape offers:
By expanding your outdoor living space, you can take advantage of your space year-round. Even practical elements, like retaining walls, can work to prevent erosion while also serving as decorative outdoor elements for additional seating.
---
Quality landscaping makes a property come to life.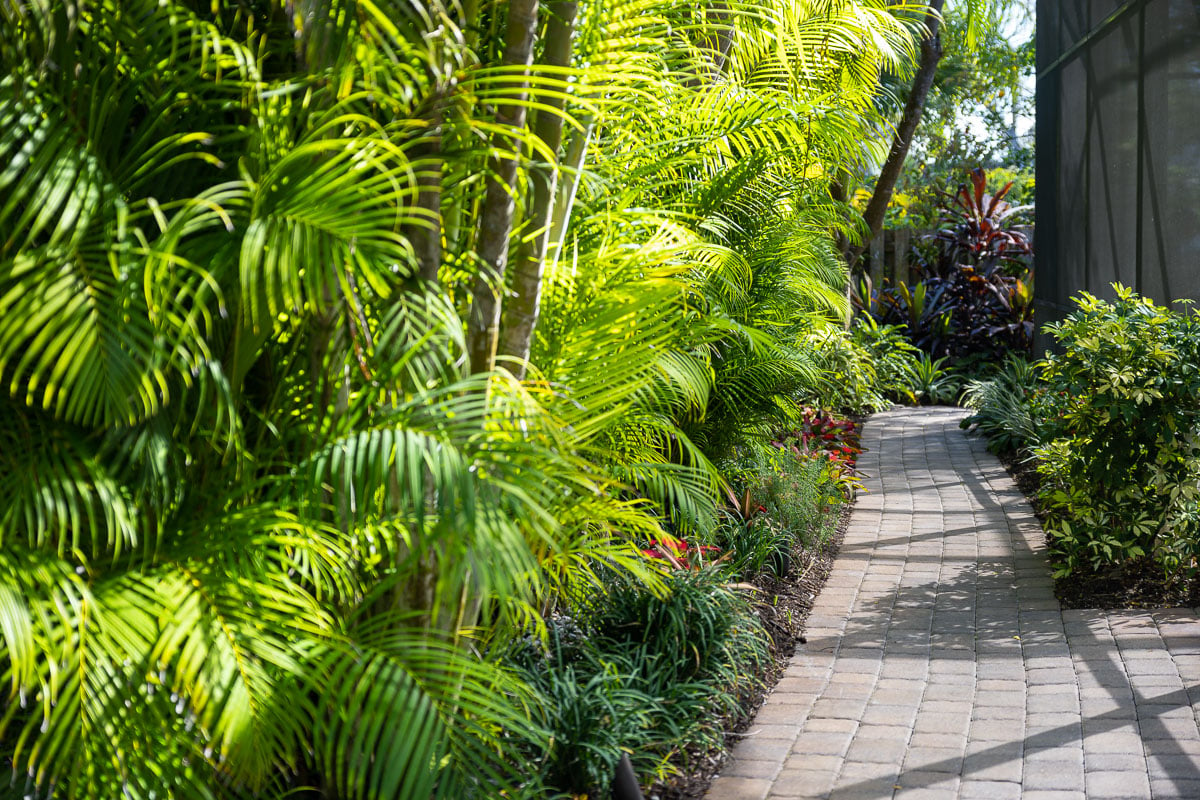 We serve a large variety of residential and commercial properties, and we know from experience that no two properties are the same. Among our many landscaping services, we offer:
When you pre-plan and schedule service ahead of time, you can get ahead of seasonal rushes, particularly for services like mulching and ornamental planting. Our consultants will assess the entire property, from buildings to trees and everything in between, and we can design and renovate to match your personal style and current trends.
---
Maintaining a property takes time and effort. Let us take care of it for you.
Lawn care and maintenance is more than just mowing the yard, and especially in Florida where lawns are more susceptible to disease and pests, it takes an expert hand to manage. Our lawn care services include:
A regular maintenance crew will get to understand the details of your property and be able to spot the early signs of trouble. In addition, maintaining a manicured property will also keep businesses and HOAs in a better position against potential property liabilities, like diseased trees.
---
Is your property in need of regular maintenance, new landscaping, or the installation of a hardscape element? Schedule your service today.
With more than 15 years of experience landscaping in Lido Key, FL, we understand the unique lawn care needs of southwest Florida. Call us today at (941) 993-2442 to schedule service for new landscaping installation, outdoor hardscape features, lawn care, and more