We offer exceptional landscape designs, renovations, hardscaping, and lawn care services to clients in Longboat Key, FL, and nearby communities.
Our company transforms your current landscape into a personalized version complete with a custom design, plantings, and outdoor living area features.
The lively community of Longboat Key is located along the central west coast of Florida and is a pleasant combination of breath-taking beaches and booming cultural activity. Home to champion golf courses, bustling resorts, and charming beachside restaurants, you're sure to find plenty of avenues to explore with your family. The island was given its name "Longboat" by Hernando Desoto and his scout when they arrived manning a longboat in the 1500s. It became an official city in 1955 with an area code of 941 and is now home to nearly 6,000 residents with upscale homes and colorful landscape designs.
Having serviced thousands of homes and properties in the area over the years, we are the expert landscaping company in Longboat Key, FL. Clients have trusted us with lawn care, landscape design renovations, and outdoor living area features since 2007. If you have a residential, commercial, or HOA property in Longboat Key, FL, or a nearby city, you can trust us to do the same for you!
---
Landscape Design Renovations: Softscapes
We offer a plethora of unique plants and softscapes that you can include in your renovation. Your new landscape will be designed with your desired color palette and personal style in mind.
Here are a few softscape features you can include in your renovation:
Perennials
Annual Flowers
Planter Beds
Shrubs & Trees
Grasses
Vining Plants
---
Landscape Design Installation: Hardscapes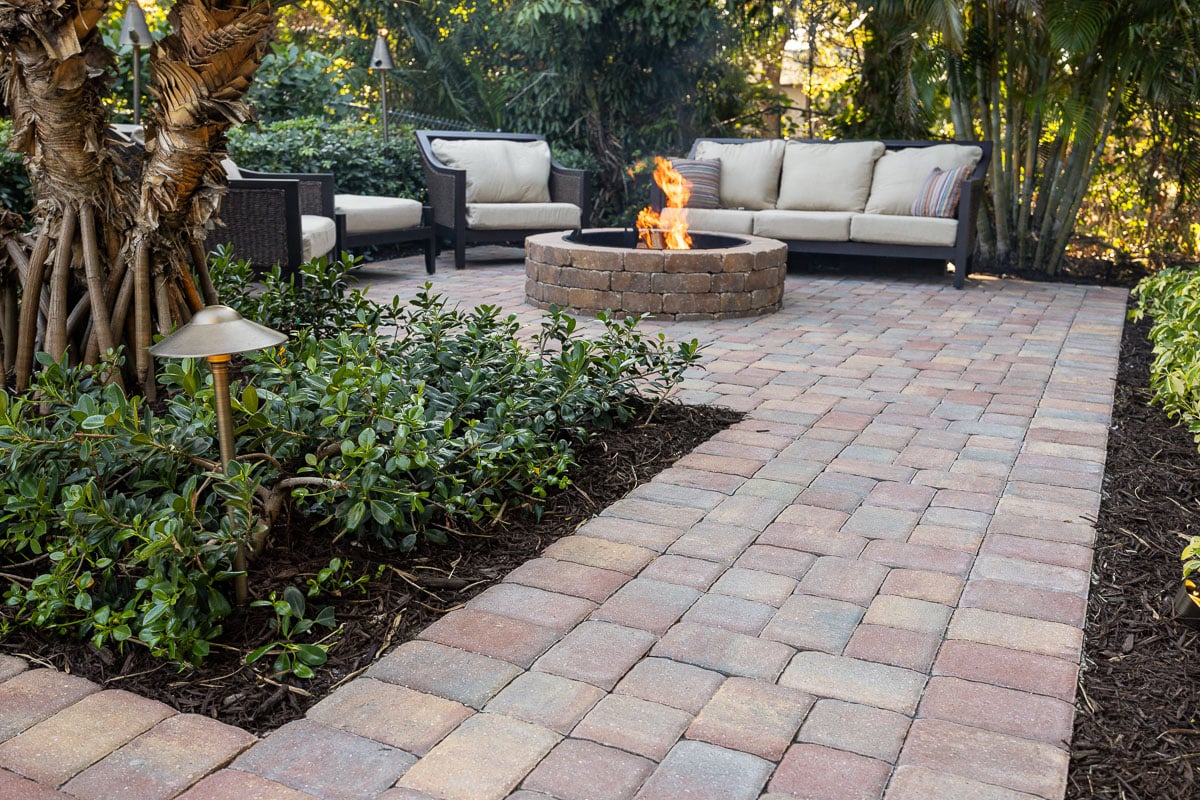 Our company prides itself on designing and constructing beautiful and functional outdoor living areas for our clients. With vast experience in hardscaping and landscaping, we will create the perfect outdoor oasis complete with essential features like patios and walkways.
Here are a few hardscape installations you can include in your landscape design:
---
Comprehensive Lawn Care & Maintenance
The health of your soil is essential to the wellbeing of your grass and plants. We offer a full-service lawn care and maintenance package to our clients with a 40-week or 52-week option.
Here are the services included in that package:
Lawn Insect Control
Lawn Disease & Fungus
We offer lawn maintenance for residential homes, commercial properties, HOA properties, condominiums, and apartment complexes.
---
Specialty Hardscape Features
Living on the sunny island of Longboat Key calls for specialty hardscapes that can further protect you from the heat and sun.
Here are some additional features you can include in your outdoor living area:
Pergolas - These standing structures are perfect features for patios and outdoor living areas. They can also be further enhanced with curtains, screens, or top coverings for extra shade.
Cabanas - We construct cabanas with maximum shade and privacy in mind. These private little getaways allow for long-lasting relaxation and easy access to the pool.
---
Give us a call today to help with your next landscaping project.
With over a decade of experience in landscape design and renovations, we are adept at creating customized outdoor living spaces for our clients. Our company is committed to enhancing the beauty, value, and function of your landscape!
For homeowners and property owners in or around Longboat Key, FL, give us a call at (941) 993-2442 to set up a consultation for your next landscaping project.