We offer lawn care services to homes and businesses in Palmetto, FL.
Our crew will nourish your lawn and plants with nutrients to promote stronger growth.
Palmetto, FL is a city in Manatee County located between the Manatee River and Terra Ceia Bay. If you're looking for something to do in Palmetto, you can visit the Emerson Point Preserve where you can climb an observation tower to get a good view of the majestic Sunshine Skyway Bridge. There is also a launching point here for kayakers and several trails for cyclists. Palmetto also offers a wide range of food options! If you're looking for a place to get coffee and some snacks, you can visit Tenth Street Coffee. If you want to enjoy a delicious meal while enjoying a view of the water, you can visit Riverhouse Waterfront Restaurant.
Our team at Tropical Gardens Landscape helps homeowners and business owners in Palmetto, FL nourish their lawns and plants with our lawn care services. We provide effective treatments that give your lawn nutrients that promote stronger growth and protect it from weeds and problematic pests.
---
Our Lawn Care Services Include Lawn Fertilization, Weed Control, Grub Control, & More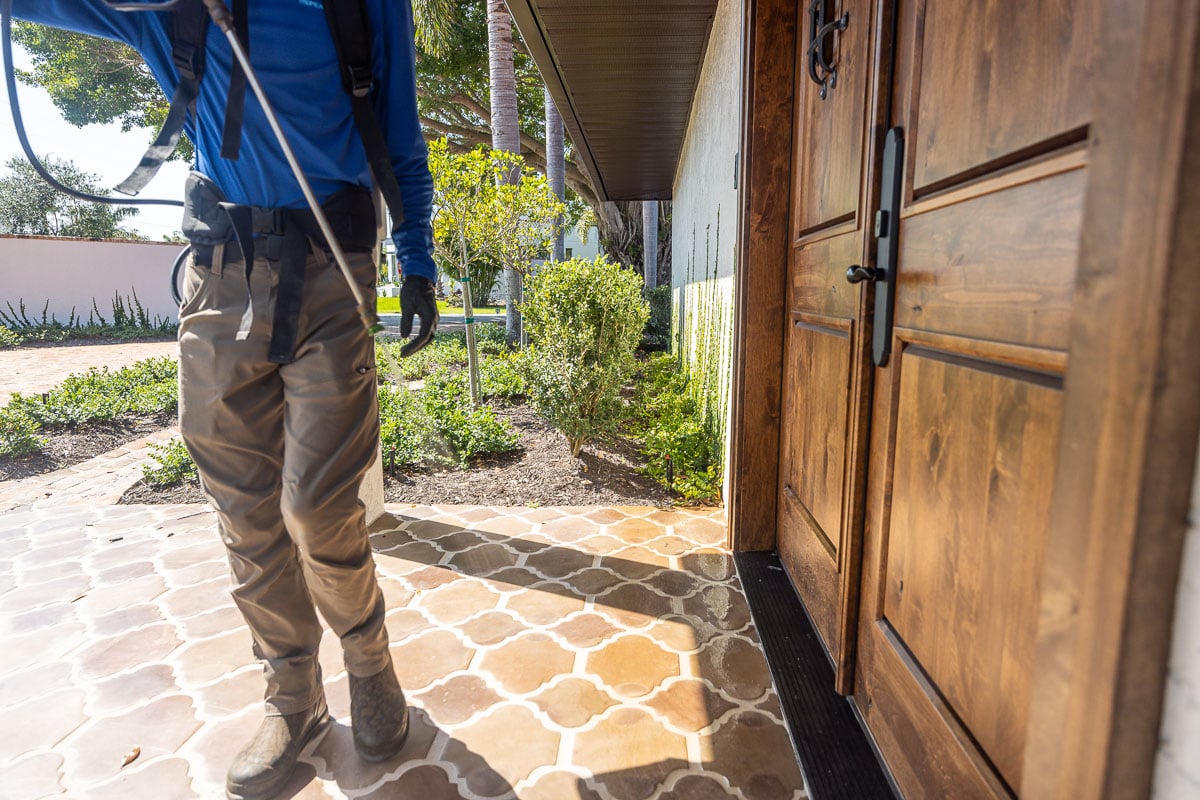 Here at Tropical Gardens Landscape, we provide the following top-notch lawn care services that will give your grass everything it needs to flourish:
Lawn Fertilization: Our team utilizes liquid and granular lawn fertilizers that are chalked full of nutrients that power growth and improve your lawn's resistance to diseases, pests, and other stressful elements. When you hire us, we'll create a specific lawn fertilization program that considers your grass type, environmental conditions, soil fertility, lawn fertilizer selection, and more to ensure your grass in Palmetto, FL receives exactly the care it needs to thrive!
Weed Control: We will ensure your turf is free from invasive, nutrient-stealing weeds through pre- and post-emergent weed control treatments. Our products are safe for your lawn and plants, so you don't have to worry about our treatments harming them! Some common weeds in the Palmetto area we target include broadleaf plantain, bull thistle, buttonweed, and clover.
Grub Control: Grubs damage your lawn by feeding on the roots of your grass, resulting in a turf that is no longer attached to the soil and lifts easily like a carpet. We offer curative treatments to get rid of a current infestation and preventative treatments so that they will never become a problem in the first place.
Fire Ant Control: We will eliminate fire ants on your commercial or residential property through baits that worker ants spread to the entire colony. Our treatments don't just target underground tunnels but also their nests. We can also use an EPA-approved chemical to treat fire ants!
Palm & Ornamental Health: Your palm trees and ornamental shrubs will receive fertilizer treatments that are full of nutrients to improve their health and encourage more vibrant growth. Palm trees and shrubs in and around Palmetto are at risk of nitrogen and potassium deficiencies. To ensure this doesn't happen to your plants, our fertilization treatments will supply them with these nutrients and more!
We have been taking care of lawns in and around Palmetto, FL since 2007!
---
Call our team today to sign up for any of our lawn care services!
Our team at Tropical Gardens Landscape provides top-quality lawn care services for commercial, residential, and HOA properties in Palmetto, FL. We have the skills and experience to provide exceptional services. If you're interested in achieving a robust and vibrant lawn, give us a call today at (941) 993-2442 to schedule any of our lawn care services!