Parrish, FL is an unincorporated community in Manatee County that has a population of more than 52,000 people. A famous attraction in this area is the Florida Railroad Museum, which aims to preserve the history of Florida's railroads through exhibits of passenger cars and locomotives that visitors can ride! They also hold events like the North Pole Express, Pumpkin Patch Express, and even a re-enactment of the Civil War.
Here at Tropical Gardens Landscape, we help homeowners and business owners in Parrish improve the health of their lawn as well as their palm trees and ornamental shrubs with our lawn care services. We have been nurturing lawns in and around Parrish for 15, and we've garnered valuable knowledge on how to ensure lawns in our area flourish.
---
Achieve the lawn of your dreams with our lawn care services.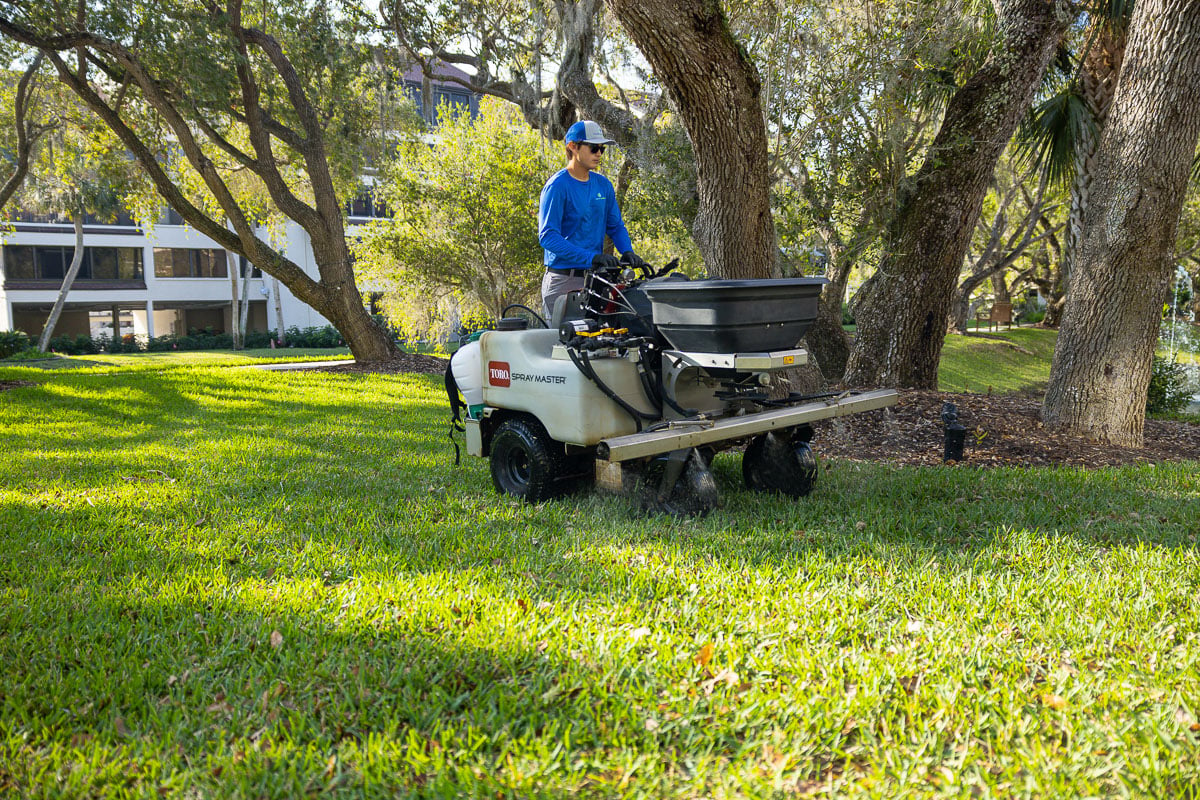 Our team strengthens lawns in Parrish, FL through top-quality lawn fertilization treatments that are curated to meet the specific needs of your grass. When you hire us, your grass will receive lawn fertilizer treatments that match the nutrient requirements of your lawn. We use organic-based liquid and granular lawn fertilizers to provide a well-balanced supply of nutrients to strengthen your grass and allow you to finally achieve the lawn of your dreams!
To eliminate unsightly weeds that can steal nutrients from your lawn, we will apply pre- and post-emergent weed control treatments throughout the year. Our pre-emergent herbicides prevent weeds from breaking through the soil surface while our post-emergent weed control treatments target weeds that have already emerged.
If your lawn has brown patches and seems spongy when you walk on it, you might be dealing with a grub infestation. Grubs are beetle larvae whose diet consists mainly of the roots of your grass. Luckily, we offer grub control treatments to defend your grass! Our team will time the application of our preventative treatments to match the life cycle of grubs and ensure they don't cause issues in the first place. We also provide curative treatments to eliminate ongoing grub infestations on your lawn.
Another issue for lawns and properties in Parrish is fire ants. At Tropical Gardens Landscape, we can protect your property from these pests with our fire ant control service, which involves spreading bait throughout your entire lawn and landscape to eliminate ant colonies. We are skilled at identifying which areas to apply the treatments to effectively get rid of fire ants from your commercial or residential property.
Our team also offers a palm and ornamental health service. This lawn care service involves fertilization treatments packed with essential nutrients to strengthen your palm trees and ornamental shrubs. We use custom-blended, slow-release fertilizers to keep your plants strong and resilient against diseases and pests.
When we apply our fertilizer to your plants, we apply the product by hand and ensure it is scattered uniformly and is not piled at the base of your plants.
---
Get started on your robust and vibrant lawn. Give us a call today to schedule any of our lawn care services!
Here at Tropical Gardens Landscape, we won't just pay unparalleled attention to your lawn's health, but we'll also make sure to use top-quality products and provide cutting-edge techniques to deliver the robust and vibrant lawn you've always wanted. We'll also give your plants the care and attention they deserve!
We provide our lawn care services to commercial, residential, and HOA properties in Parrish, FL. Give us a call today at (941) 993-2442 to schedule any of our lawn care services.