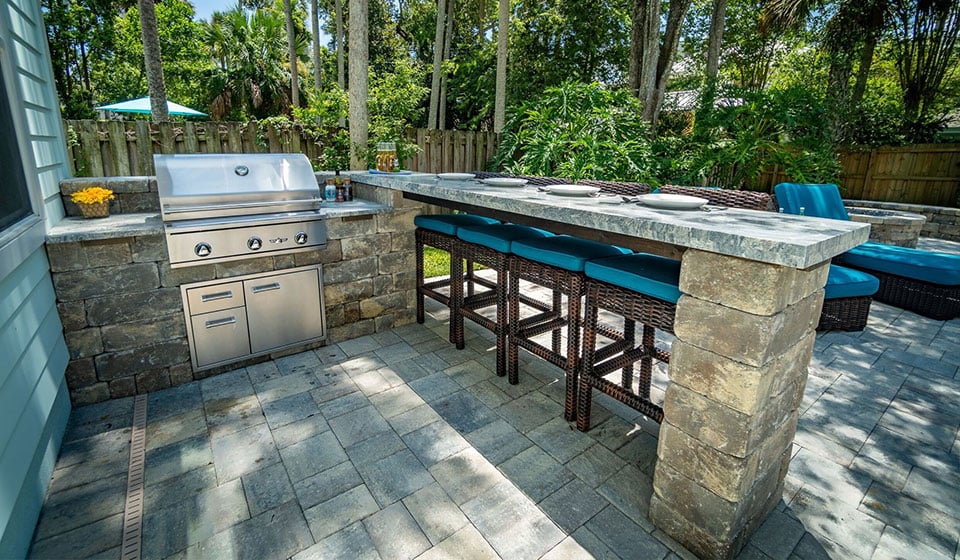 4 Outdoor Kitchen Design Ideas You Should Consider
With so many ways to design an outdoor kitchen, it can be hard to know where to stop.

Thankfully, custom-built outdoor kitchens can be as simple, or as intricate, as best fits your landscape.

When crafting your list of outdoor kitchen ideas, remember that good planning goes beyond a list of obvious features. Great installations fit seamlessly into your outdoor spaces.

Be sure to consider the following elements when planning your project. Like all parts of a great landscape, great outdoor kitchens require the right combination of design, construction and inspiration.
1. Outdoor Kitchen Materials & Construction
More important than the features, appliances and creature comforts built into your outdoor kitchen is the overall construction of the kitchen that will host them.

Outdoor kitchens can be as small as an island unit on your deck or extensive enough to fill an entire covered porch or tiki hut. The construction of your outdoor kitchen is the unifying theme that brings all these elements into focus.

At Tropical Gardens, our outdoor kitchen designs are custom-built to fit your landscape. Each unit features built-to-suit aluminum framing and can be finished with a variety of stone and stucco fascias.

Looking for a quick and adaptable outer shell? Painted stucco is a great option and highly customizable. These exteriors can also be covered in tile or native Florida stone to create a local touch.

To create a true exclamation point, high-touch installations can even be finished with manufactured wall blocks to match hardscaping elements seen elsewhere in the landscape.

For those who aren't behind the grill, the outer construction of your outdoor kitchen is its focal point, and points to its place in the landscape.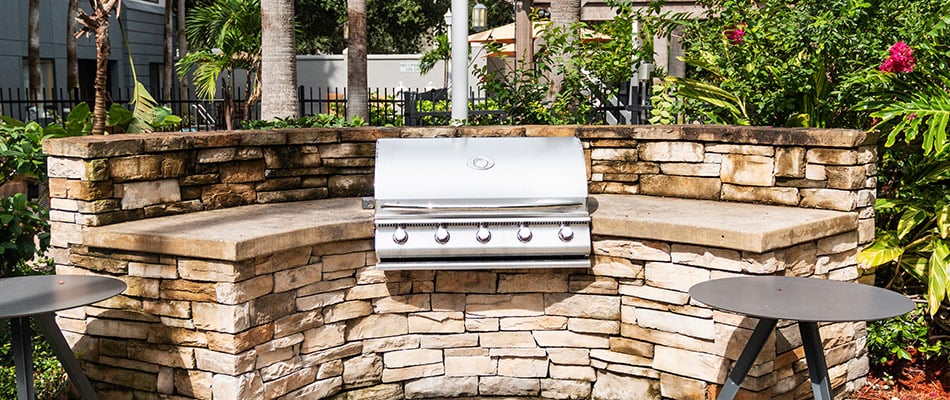 2. Outdoor Kitchen Countertops
If finishes and features are the party of your outdoor kitchen, you know that business gets done behind the grill.

Outdoor kitchens are a mix of form and function. In the landscape, they serve a specific and central function.

In that spirit, the work that takes place behind the scenes - namely, feeding the family - deserves the same high-touch quality as the rest of the installation.

Countertops are a great way to express unique ideas as you design an outdoor kitchen. Florida native stones can be quarried and cut to fit your kitchen, a great way to express the local flavor and make your vacation rental property stand out from the crowd.

The right countertop can be chosen to match your furniture, home exterior or landscape palette. Or, it can stand out as a feature all its own.

If you're planning to spend your time outdoors at the controls of the kitchen, be sure that the countertops you choose speak to the style of the rest of your landscape.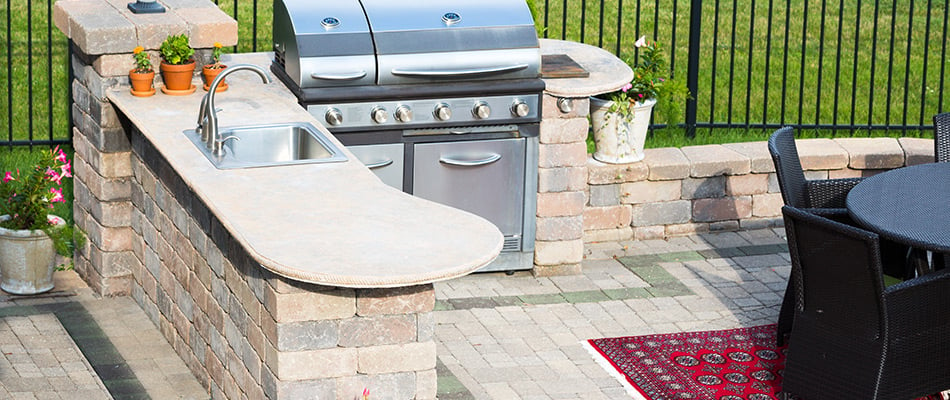 3. Outdoor Kitchen Appliances
Like everything else in the landscape, your outdoor kitchens will spend all their time outside.

In Sarasota, that means a life spent outdoors in the particular heat and humidity of Florida.

Even those installations built under pergolas and tiki huts will still contend with heat and humidity that isn't to be found throughout the rest of the country.

The lesson here? Don't skimp. Your appliances will stand up to harsh weather conditions and, hopefully, regular use.

For vacation rentals, it's especially important that your equipment is sturdy and appealing. A grill alone is standard fare. Outdoor kitchen designs incorporating refrigerators, sinks and multiple forms of storage stand out and turn your backyard into the heart of the party.

The best outdoor kitchens keep the party outside. Drawers and storage may not be the first things your think of when planning a dream installation, but are key to making it a fully usable space that doesn't leave you running back into the house for every little thing.

Like every part of designing an outdoor kitchen, careful consideration must be given to your appliances and features.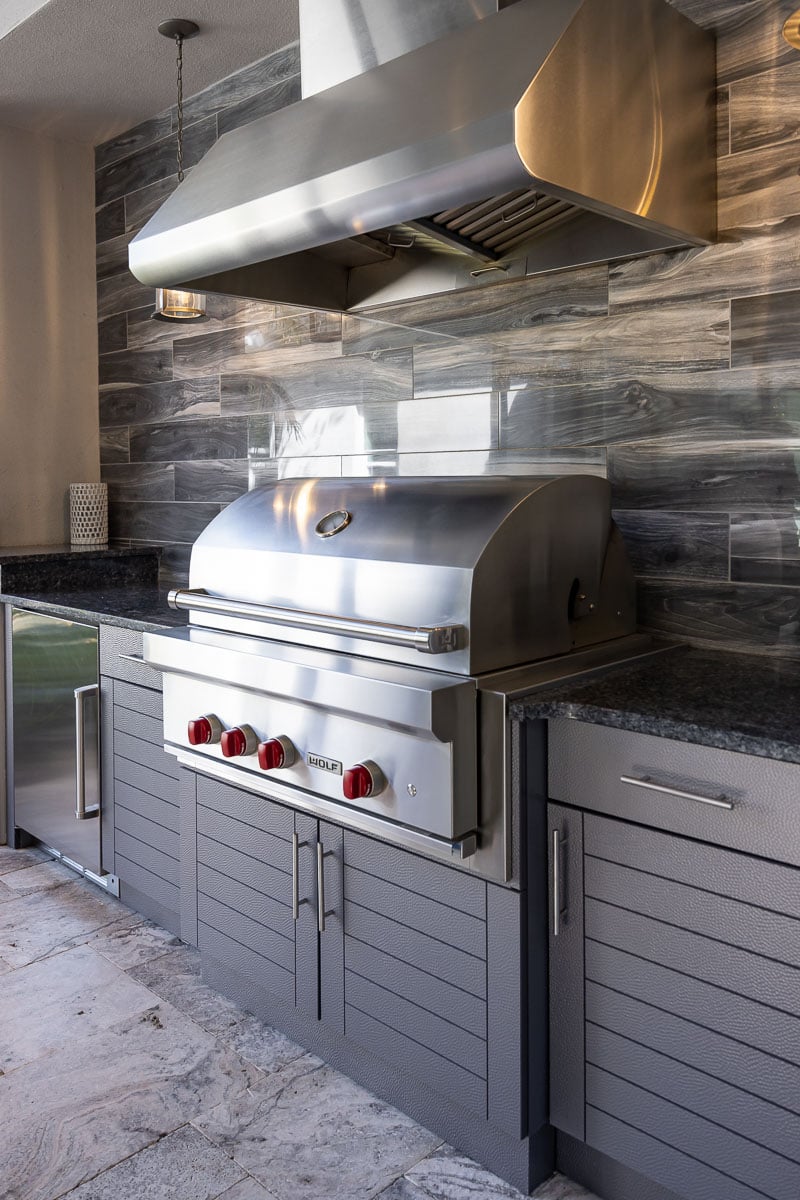 4. Outdoor Kitchen Bartops & Gathering Spaces
Picture yourself running the show for a party or family gathering behind your new outdoor kitchen.

Now picture the area around this space - is there room enough for the party to join you?

A great outdoor kitchen isn't just a utility, but a gathering space. Incorporating bartops with room for seating is a great way to make sure you can get to work without leaving the party behind.

Time spent outdoors should be an affair. Expand the size and function of your outdoor kitchen to make sure that cooking outdoors doesn't leave you on an island.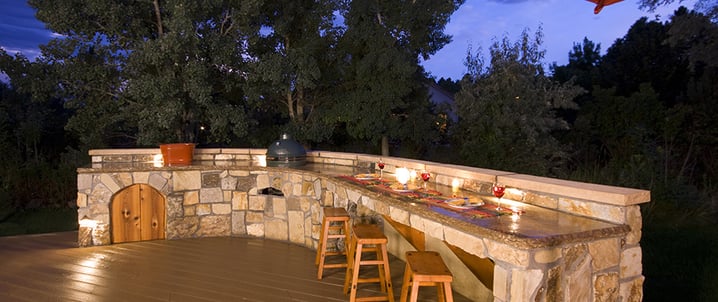 Design an Outdoor Kitchen with the Experts Today
Sarasota is blessed with year-round outdoor weather. Bring the party outside (and keep it there) with functional and stylish outdoor kitchens.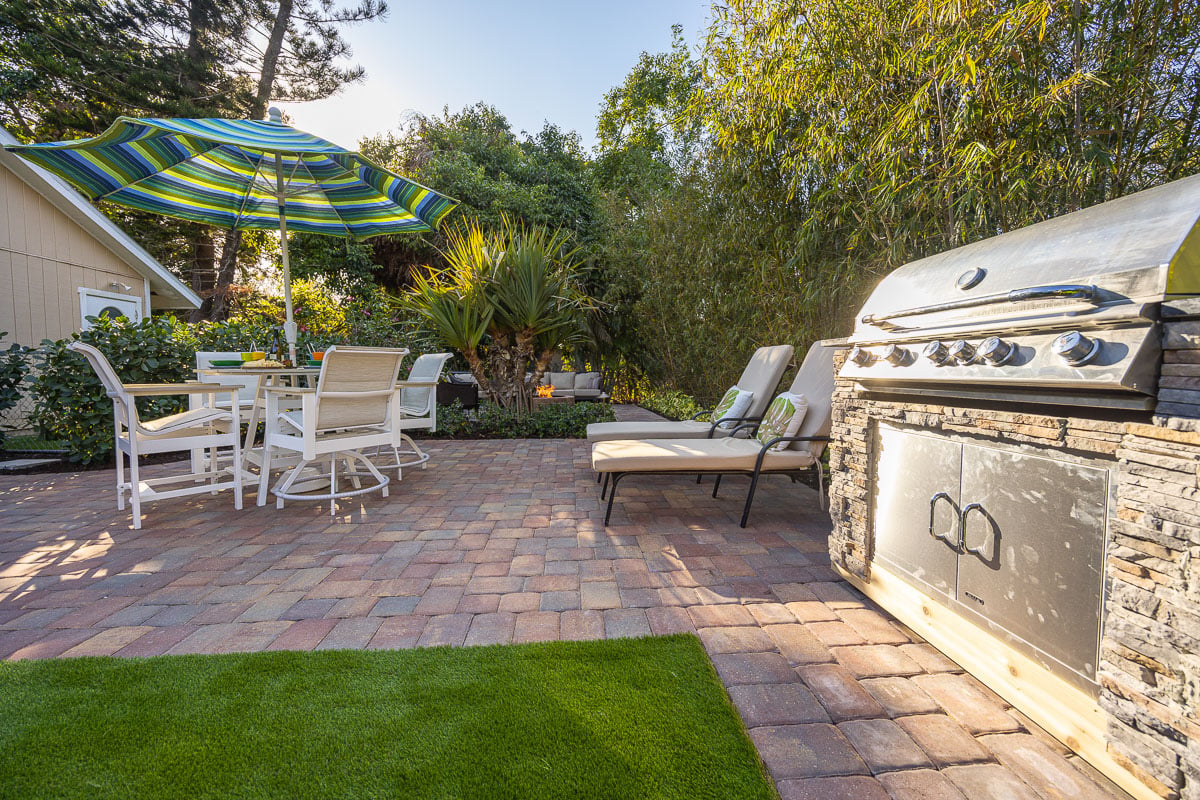 Give us a call today. Our team of Sarasota designers will help you create a great outdoor kitchen for your backyard or vacation rental property.