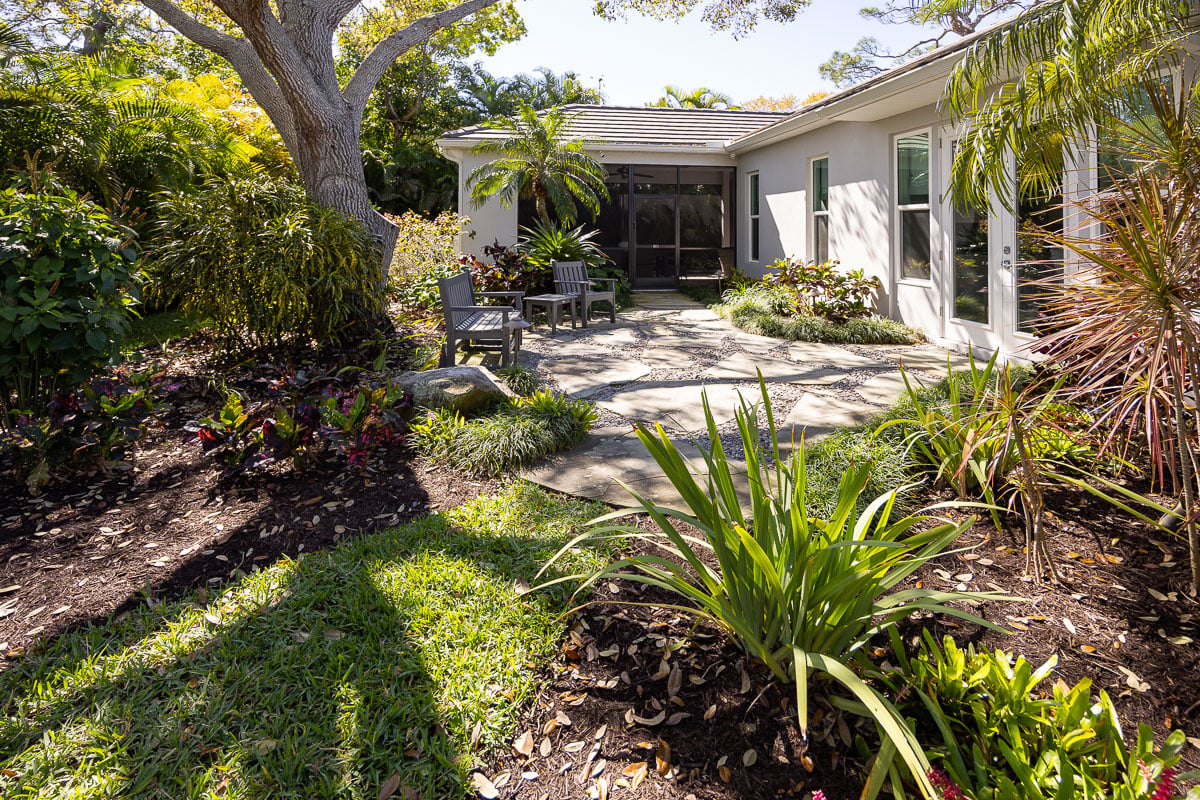 The 6 Best Trees to Install in Your Sarasota Landscape
Nothing completes a landscape quite like trees. After all, who can resist picturing a mature landscape with large trees providing shade and structure for that perfect getaway backyard?

If you're working toward that ideal outdoor space, you might be wondering which trees are right for your yard. The options are almost limitless.

Homeowners in Sarasota, Florida have the benefit of working with deciduous shade trees or show-stopping palms. Picking the best trees for curb appeal, privacy or any other part of the landscape is best explained by the old axiom, "right plant, right place."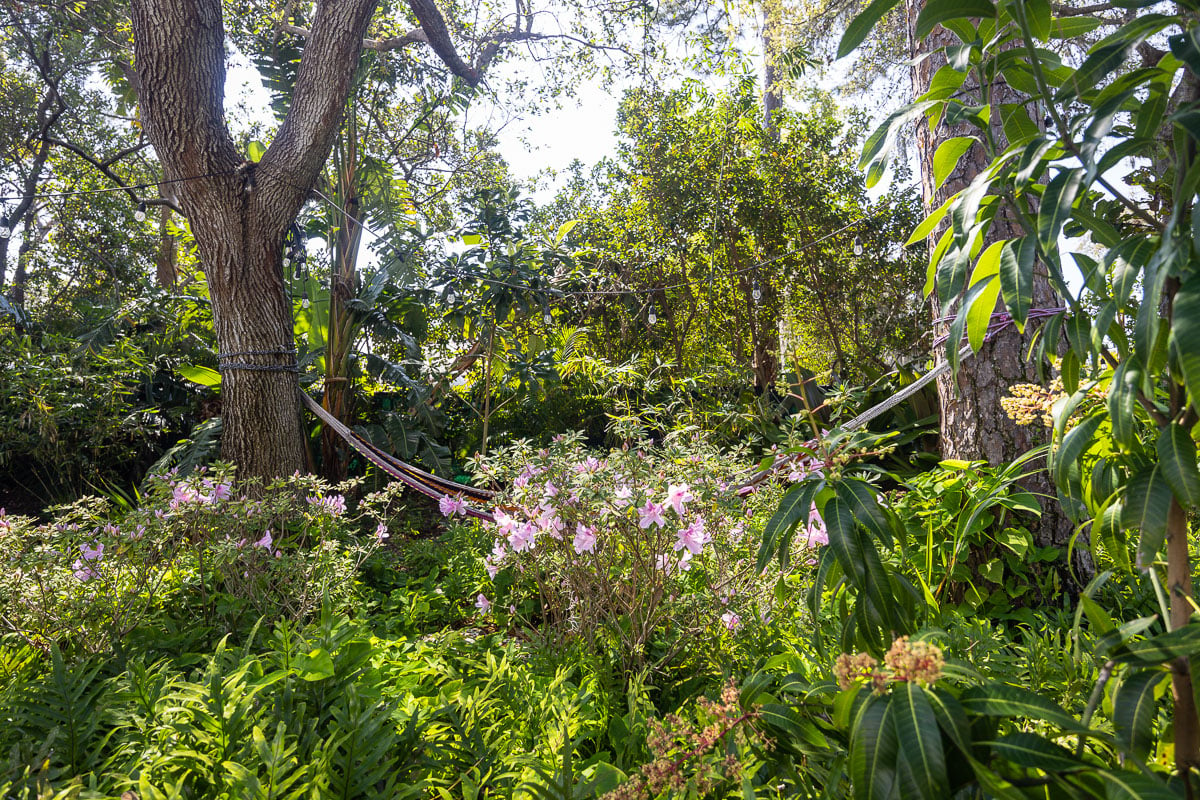 Read on to learn more about selections that we've found to be the right plants for many places in the Sarasota landscape.
1. Best Large Shade Tree: Southern Live Oak
Quercus virginiana

A semi-evergreen shade tree, Southern Live Oak is a signature of landscapes in the American south.

Large Southern Live Oaks are great for providing dense shade. With heavy canopies that branch out widely from a relatively short trunk, these trees are best suited for large landscapes where they'll have the room they need to stand tall.

Planting a Southern Live Oak means selecting a tree for the life of your landscape. These slow-growers can reach great widths and live for hundreds of years, but may only add a foot or two of growth per year.

While not truly evergreen, these large oaks drop their leaves and replace them quickly in spring. Pollen can be messy and staining, meaning Southern Live Oak are best-suited for large outdoor spaces where they can grow freely without the need for repeated pruning and cleaning.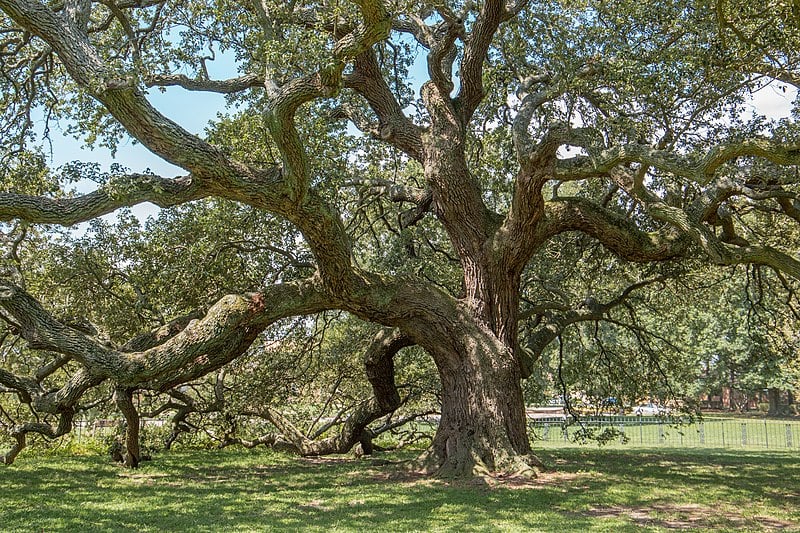 2. Best Flowering Tree: Royal Poinciana
Delonix regia

One of the best trees for curb appeal, the flowering Royal Poinciana makes a great addition to the Sarasota landscape.

Unlike most semi-evergreen trees in Florida, the Royal Poinciana is a flowering specimen. These trees are flush with flame-red spring blooms, adding bursts of color to the front yard or backyard garden.

Dense foliage provides great shade during the heat of summer, making them on of the best trees for backyard landscapes.

With growth rates touching up to five feet per year in ideal conditions, Royal Poinciana are excellent selections for newer landscapes where mature specimens aren't yet found. Add these to your front yard to stir envy in the neighborhood.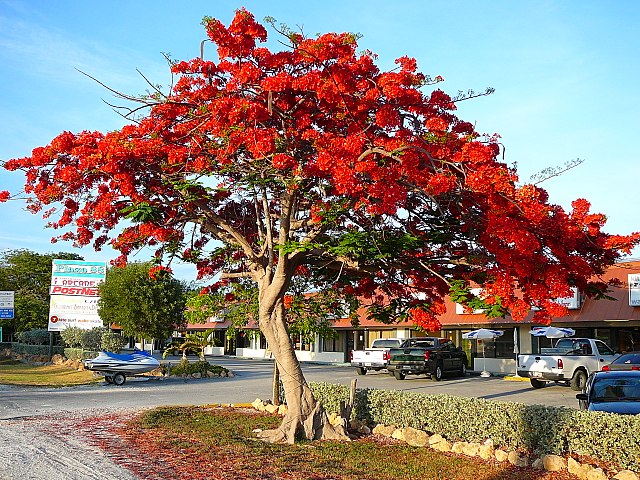 3. Best Midsize Tree: Black Olive 'Shady Lady'
Bucida buceras

A fast-growing semi-evergreen, Black Olive 'Shady Lady' makes for a resilient addition to sea-side landscapes.

Black Olive come in a multitude of varieties. 'Shady Lady' are known for their canopies, which grow in layered branches of small leaves. The zig-zag branching habit creates the look of a natural bonsai tree, making it an excellent specimen for curb appeal or backyard escapes.

When planning your landscape, consider what it means to live with your trees. 'Shady Lady' are semi-evergreen, or deciduous trees that remain flush with foliage year-round in the warm Sarasota climate. While these trees still experience leaf-drop in winter and early spring, 'Shady Lady' provide easier cleanups than Oak and other large varieties.

'Shady Lady' have good salt-tolerance and make for fine additions to coastal installation. While they may outgrow small spaces, there are dwarf varieties available that capture the same feel.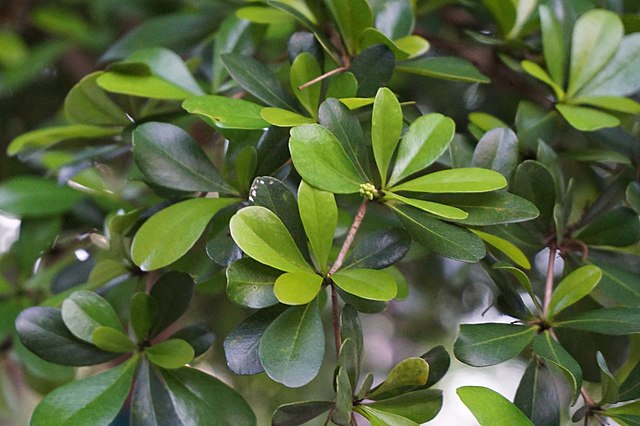 4. Best Small Palm Tree: Bottle Palm
Hyophorbe lagenicaulis

Nothing says 'vacation' quite like palm trees.

Whether you're seeking a backyard escape at the end of the workday or looking to boost the curb appeal of your Sarasota rental property, the right palms can make your property stand out as a true tropical destination.

If you don't have the space for large trees but still want that tropical look, Bottle Palm are some of the best trees for curb appeal.

Bottle Palm feature bulbous trunks resembling old wine casks, giving them a unique trait among palm trees. These trunks grow wider with age. Like the bottles of wine they're known to resemble, Bottle Palm only get better with age.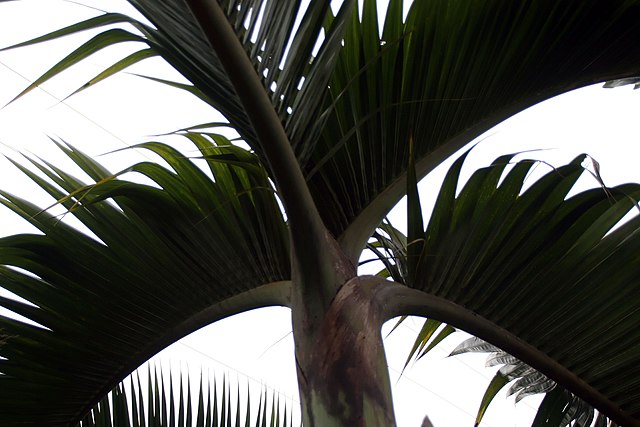 5. Best Midsize Palm Tree: Foxtail Palm
Wodyetia bifurcata

For shade or ornamental applications, it's hard to go wrong with Foxtail Palm.

Growing to 15 to 18 feet at maturity, Foxtail Palm hit the sweet spot for many Sarasota properties. These 'self-cleaning' palm trees shed their fronds when they die, saving arduous maintenance and providing a healthy look all year long.

Native to Australia, these trees are tough. Foxtail palm are tolerant of salt spray and can handle a wide range of soils, leading to their success as transplants in the southern climates of North America.

For Sarasota homeowners looking to find the right trees for backyard gardens, Foxtail Palm can provide the tropical 'look' while framing in the backyard. Palms may not provide privacy, but planted well, they can lend structure and boundaries to your landscape.

For properties large and small, it's hard to go wrong with Foxtail Palm.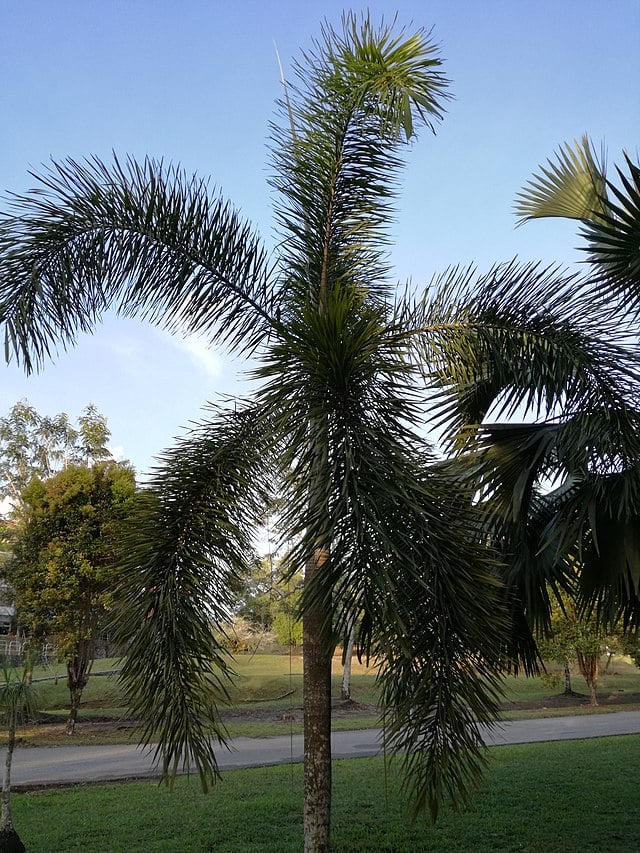 6. Best Large Palm Tree: Royal Palm
Roystonea regia

A classic of the Florida landscape and native to boot, Royal Palm are fantastic selections for landscapes big enough to accommodate them.

Royal Palm can be thought of as 'estate-sized' - these trees are large enough to provide structure and beauty for the largest of Sarasota landscapes.

Very large and fast-growing, Royal Palm can add 2 to 3 feet of growth per year in ideal conditions. Like Foxtail Palm, they are self-cleaning specimens. It's a helpful trait, as these trees often reach 30-32' in height or more.

The fronds of Royal Palm are monsters, and can be damaging when they do shed. Royal Palm are best planted far enough away from homes and vehicles where they can create scale in the landscape without overgrowing their placement.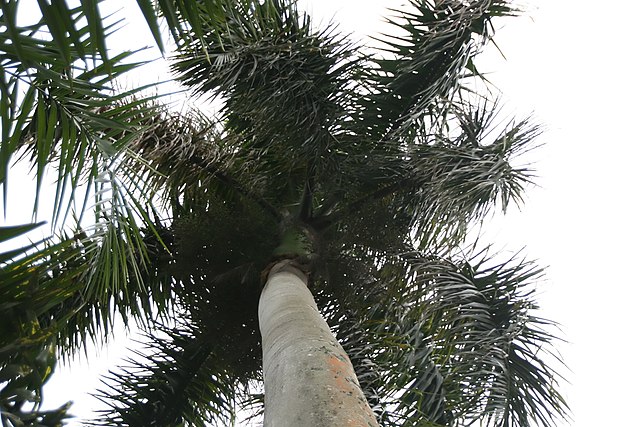 Still unsure which are the best trees for your Sarasota yard?
There are thousands of varieties of trees to fit the Sarasota landscape, whether Palms or semi-evergreens.

Like all plants, selecting the right trees comes down to understanding the conditions of your landscape and the characteristics of the trees you choose.

Our designers are fluent in Florida trees. We'll help you select the right specimens for your Sarasota landscape, making each one the right choice to meet your needs for privacy, beauty and structure.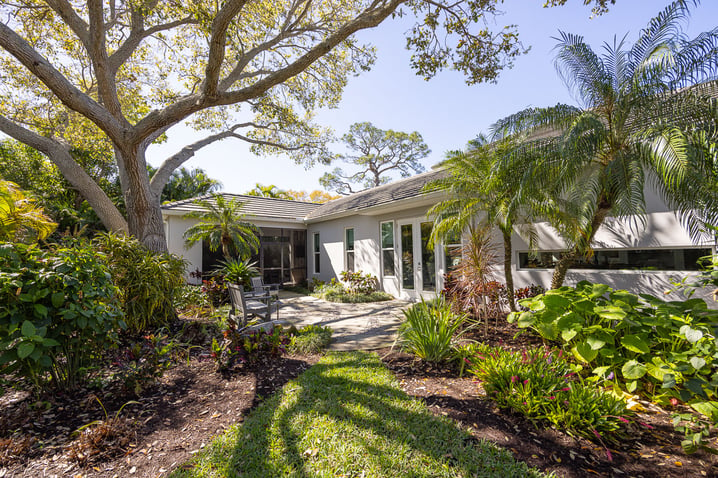 Reach out today to find out how our experts can help you choose the best trees for curb appeal, backyard escapes and more.

Image Source: https://commons.wikimedia.org/wiki/File:Emancipation_Oak_Canopy.jpg; https://commons.wikimedia.org/wiki/File:Royal_Poinciana.jpg; https://commons.wikimedia.org/wiki/File:Bucida_Buceras_(Shady_Lady,_Black_Olive)_(28259688024).jpg; https://commons.wikimedia.org/wiki/File:Hyophorbe_lagenicaulis_15zz.jpg; https://commons.wikimedia.org/wiki/File:Wodyetia_bifurcata_(181218-1748).jpg;