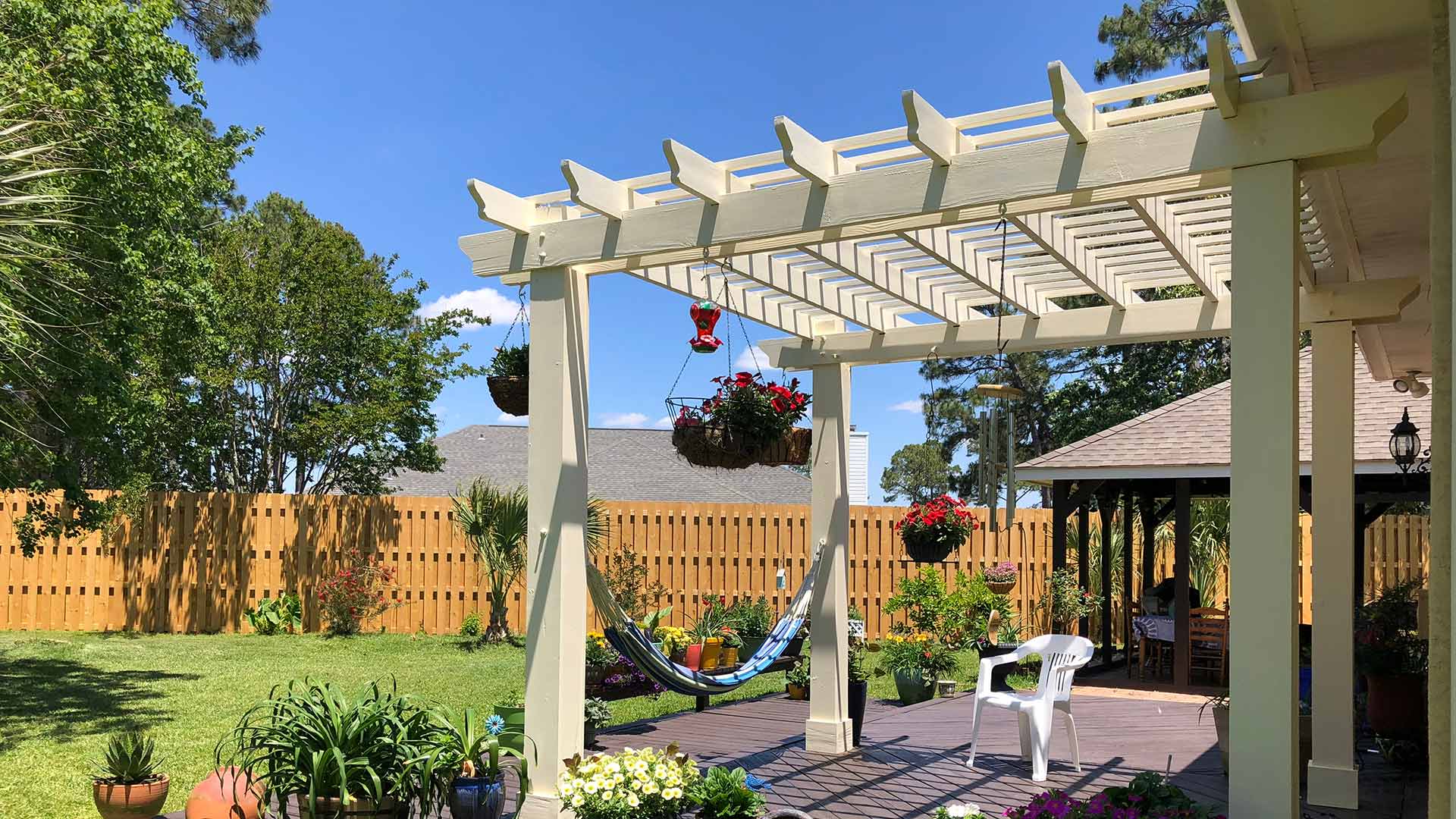 8 Reasons Why You Should Consider a Pergola in Your Sarasota Landscape
There's really no reason you shouldn't consider a pergola as part of your backyard tropical paradise.

Backyard pergolas are both practical and kind of fancy, giving your outdoor space a high-end, elegant feel. Perfect for you, or absolutely appealing to vacationers looking for an amenity-packed rental.

Pergolas can be big, nicely covering your entire outdoor kitchen or patio. Or they can be intimate and cozy, offering a perfect little haven to catch up with your partner over a glass of wine or, let's be honest, escape for a bit of "me" time when the kids are bickering over who gets the last cherry popsicle.

(Too bad for them, you're enjoying that last cherry popsicle underneath your pretty new pergola.)

You get the idea. You need a pergola, right? Need more pergola benefits? Start counting:
1. Pergolas Are Versatile
Pergolas are super easygoing. They're happy anywhere.

These popular garden structures are made of vertical posts or pillars that support cross beams or lattice overhead. They're totally customizable.

Build a shade pergola right off your sliding patio doors so it isn't so crazy hot out there when the sun beats down.

Have your pergola builders add a pergola poolside, a perfect spot to dry off after a swim and munch some lunch.

Add a pergola over your outdoor kitchen area to help define the space, add some cover from the sun, and make it seem extra special when the sun goes down and the twinkling lights come on.

You can attach a pergola to the side of your house or add a freestanding pergola anywhere on your property.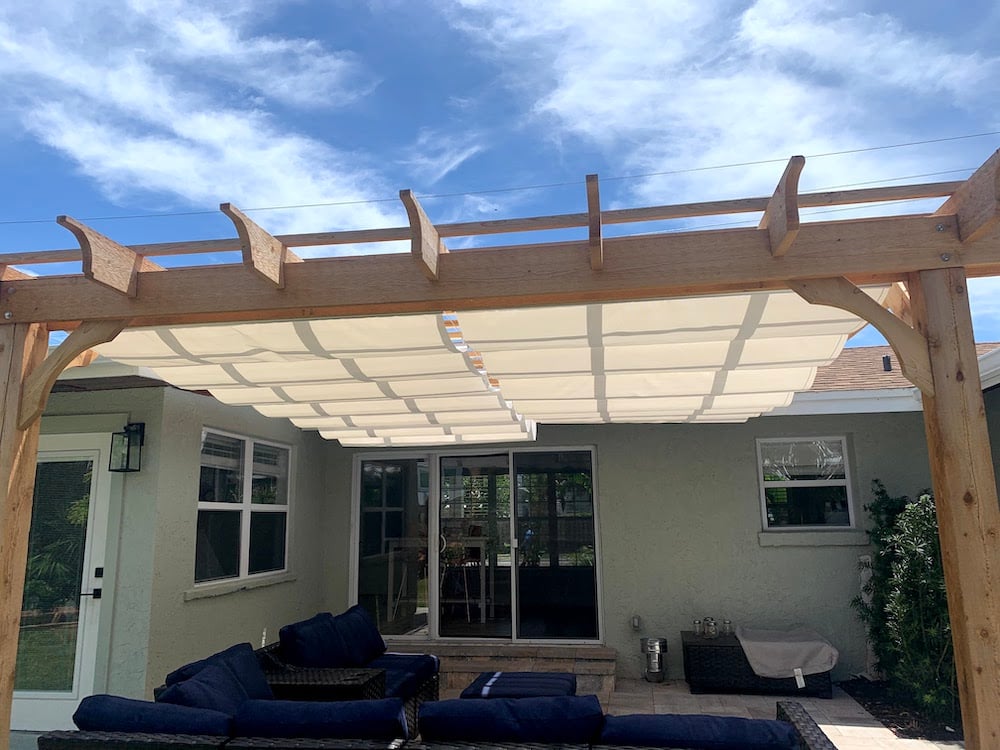 Which brings us to one of the great pergola benefits:
2. Imagine an Intriguing Pergola Destination
Create an enchanting garden getaway by placing your backyard pergola away from the house, maybe at the end of a charming winding walkway lined with lush plants.

Nobody can resist a charming winding walkway, right? What intriguing mystery lies at the end? Hey, look — it's a pergola! Make it worth the trip with comfy outdoor furniture for garden gazing.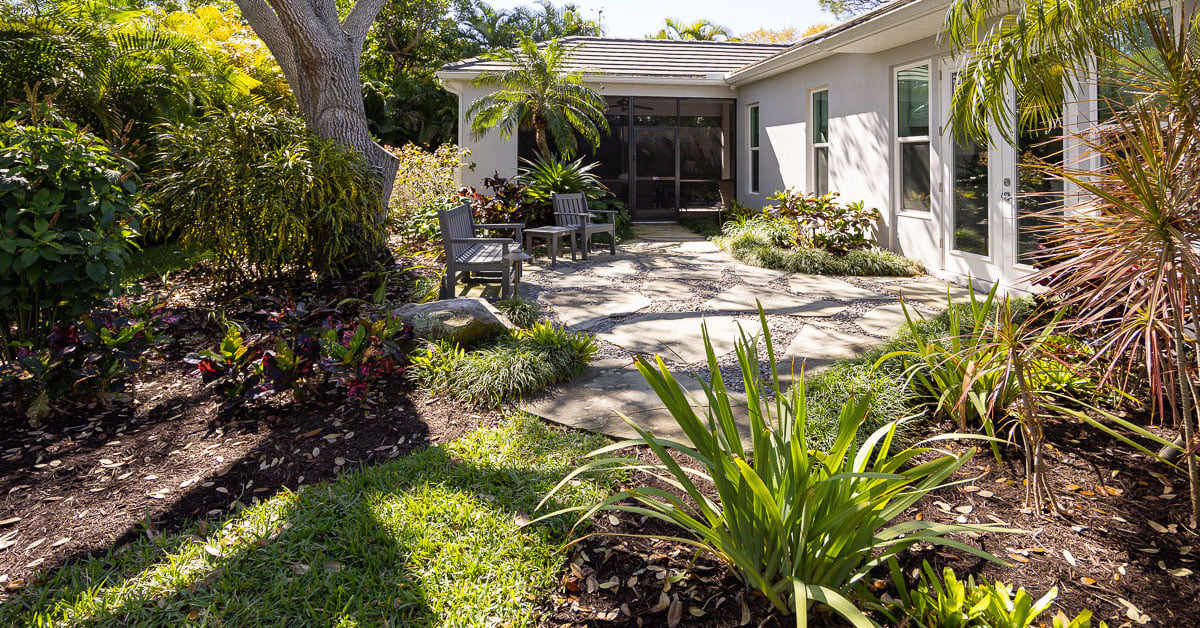 3. This is Florida. Enough Said
It gets hot here in Sarasota. On a hot sunny day, a shade pergola offers overhead protection, filtering the light and lessening the sun's intensity.

Your pergola builders can add a bit more shade by adding more wood structure overhead, spacing the slats closer together.

Or add even more shade with a sliding canvas cover that can shade your space during the afternoon and retract after the sun sinks lower.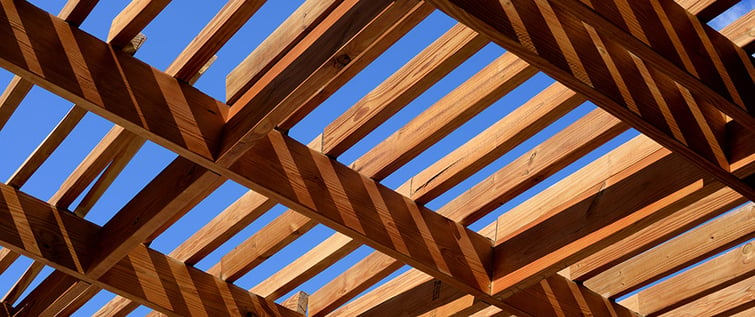 4. A Pergola Extends Your Garden
Pergolas are already pretty, but adding climbing flowering vines that grow up the posts and onto the structure overhead makes them a lush escape, and extends your garden space. More garden? Definite pergola benefit.

Jasmine offers a lovely scent, and can cover your pergola so well you can sit out there in the rain and not get wet. Do your neighbors have a scented jasmine umbrella? Doubt it.

Add hanging planters overhead for an extra layer of luxury. Suddenly, you have a whole new leafy garden oasis.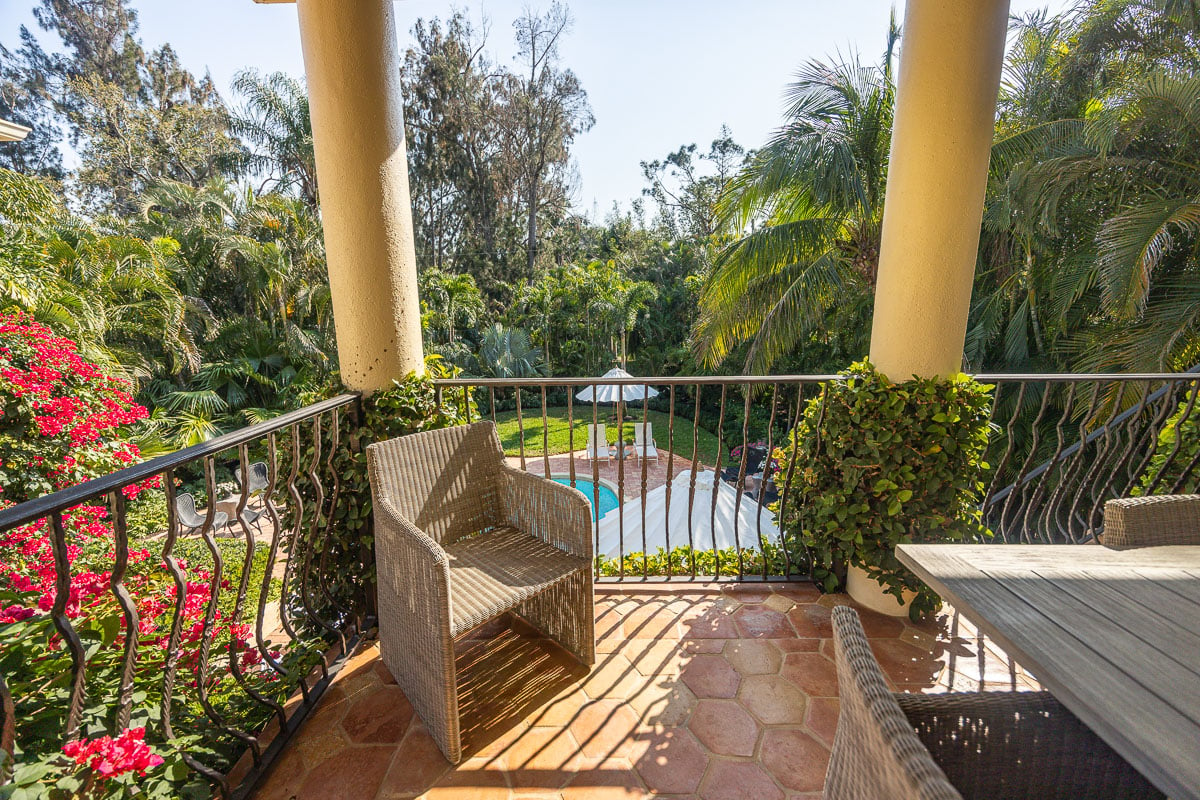 5. Add Lights: Instant Magic
Have your Sarasota pergola builders add festive white bistro string lights to your pergola and you have an instant party. Or a really romantic setting for an intimate dinner for two. Or a tranquil escape after a rough day at work. Just you, blissful quiet, and a mango margarita.

Adding a lighted backyard pergola extends the hours you can use and enjoy your outdoor space. Heck, hang a hammock or two out there and the evening never has to end.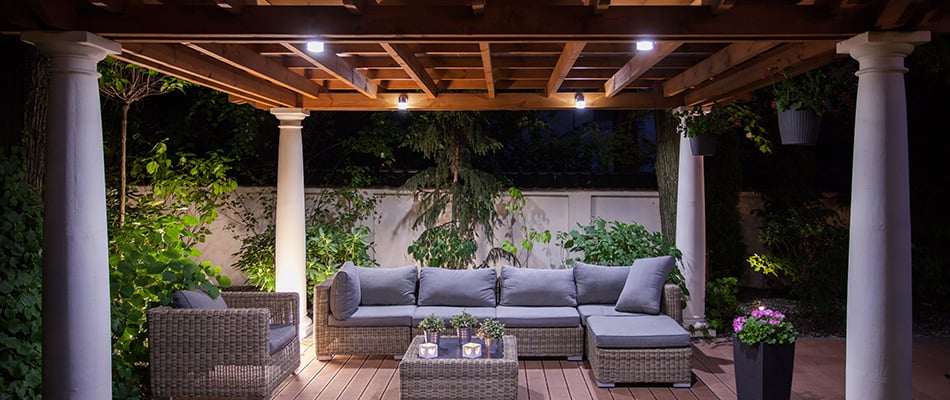 6. Pergolas Are Great for Entertaining
Sure, you can invite friends over for burgers, and it's a lot of fun. But when your invitation includes dinner under the backyard pergola, you elevate the whole experience.

A pergola has a way of defining a space and making it seem special. (You might want to jazz up those burgers. Maybe bacon jalapeño popper burgers or teriyaki burgers with pineapple.)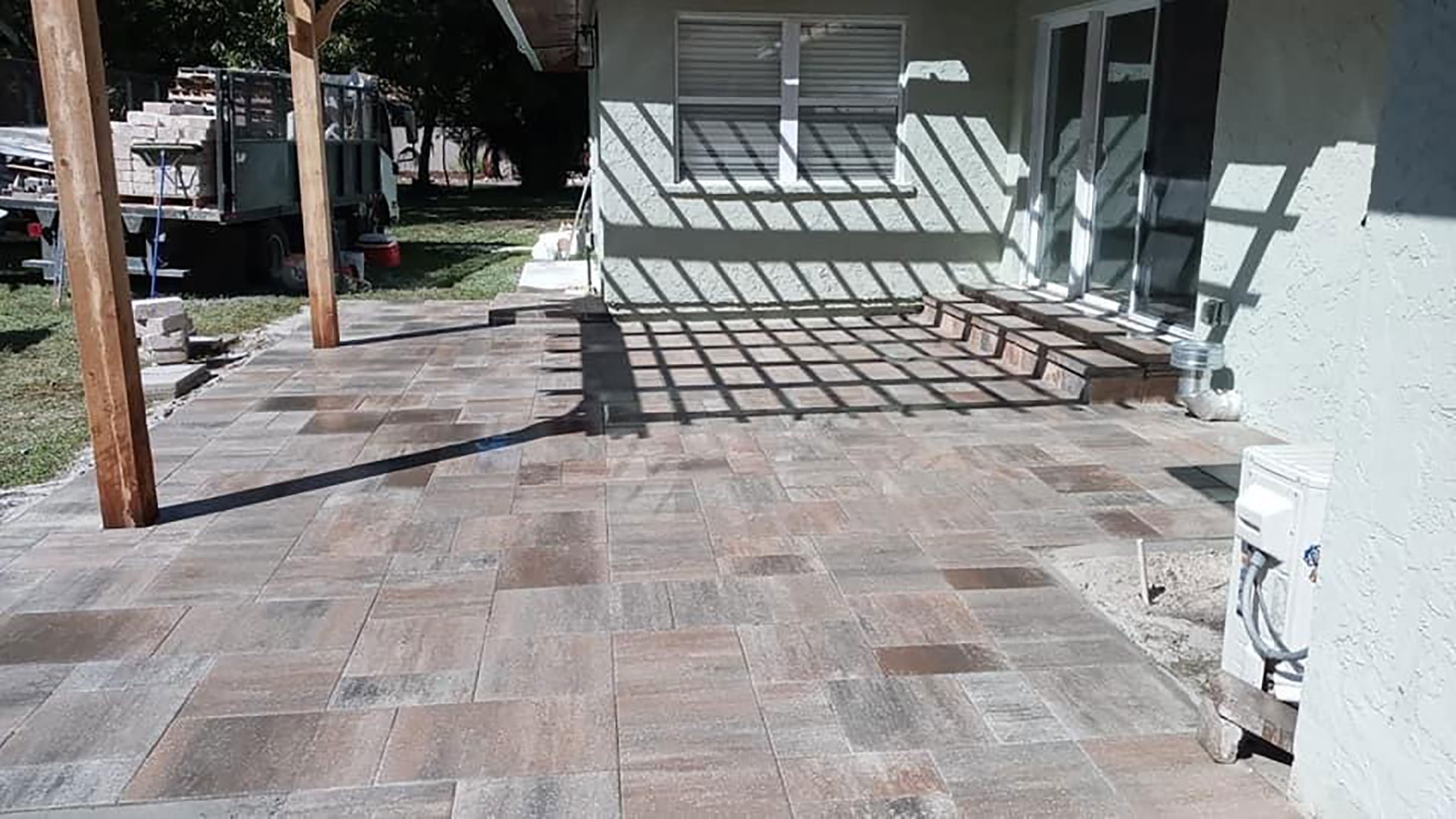 7. Add Cool Amenities for an Awesome Outdoor Room
A pergola is a great start on a whole new outdoor living haven.

The right accessories make it the family "it" spot where everybody wants to hang out.

Add comfortable furniture, lights, plants, an outdoor rug, even cool curtains, and you have a plush, relaxing outdoor hangout for, well, you name it.

Morning yoga sessions with the neighborhood birds. Your Wild Women Wine and Books Club. Moonlit cocktails. Even making the weekly grocery list is suddenly less of a chore.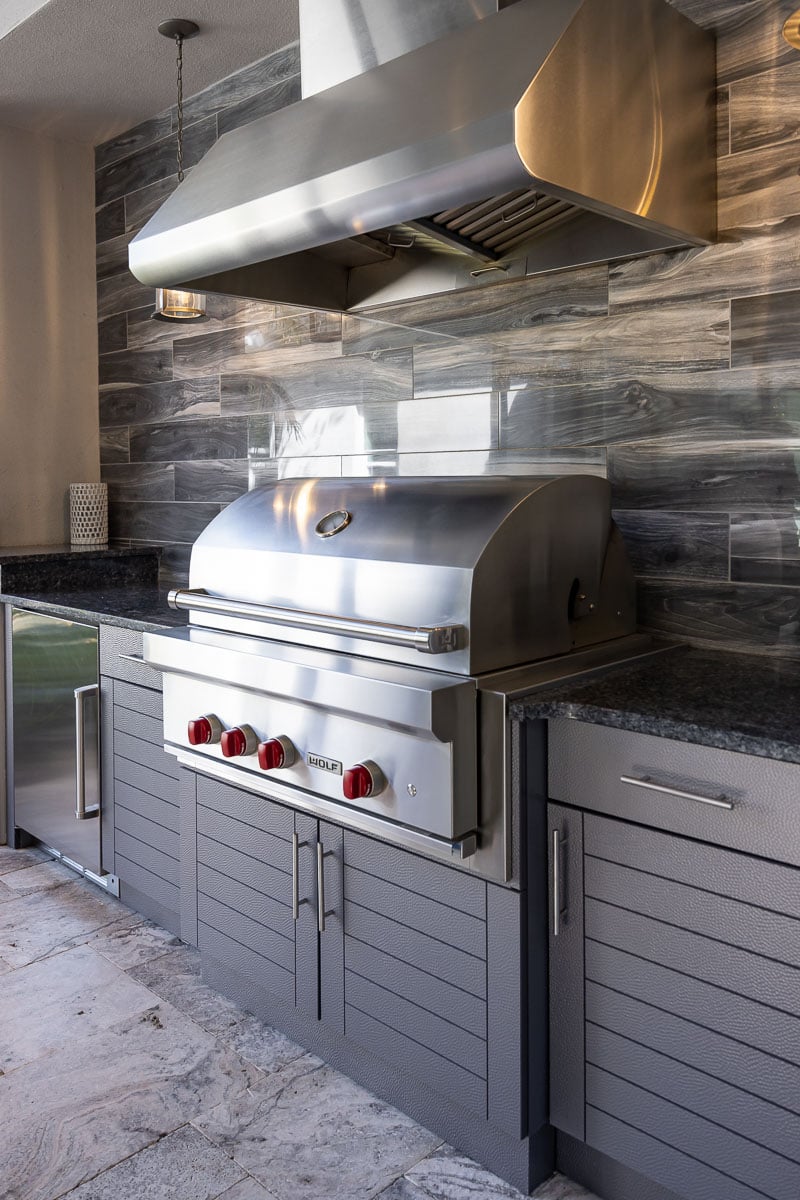 8. A Backyard Pergola Adds Value to Your Home
Great landscaping increases your Sarasota property value and your rental property appeal, and that includes a pergola.

Maybe you'll love your new pergola so much, you'll never leave. It happens.

But if you do decide to sell someday, imagine the prospective home buyers at your open house: "Oooh, a pergola!" Tell them about the time you escaped out there to relax and savor the last cherry popsicle.

Sold.
Pondering a Pergola? Talk to Us
So many pergola benefits, right? What are you waiting for?

Chat with one of our landscape designers, who are happy to help you figure it all out, from inspiring pergola ideas right through expert pergola installation.

Our design/build teams create custom pergolas built to match the style and needs of homeowners across Sarasota.
Give us a call today! Our team of Sarasota designers will help you create the perfect pergola for your backyard or vacation rental property.

Then, get your pergola party started.