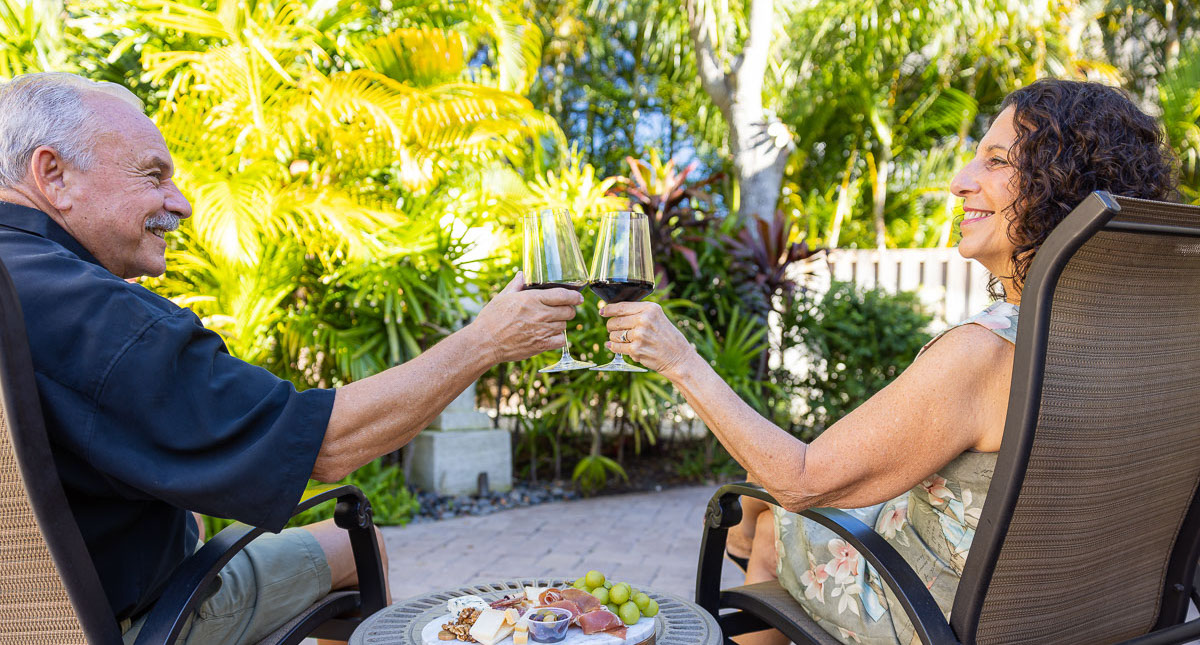 How Much Does it Cost to Install a Patio in Sarasota? 6 Things You Should Consider
At Tropical Gardens, we often talk about turning our clients' Sarasota backyards into 'secret gardens.' Florida graces us with a year-round outdoor season, meaning there's no end to the time our clients can spend enjoying their outdoor living spaces.

Maybe you want to spend your time outdoors feeling the grass beneath your feet (we can help with that too). You may also want a more permanent gathering space in your Sarasota landscape.
If you're considering how to make the best of your outdoor living options, you may be considering a new patio installation.

Patios can be as simple as a gravel pad or as intricate as fine classical stonework, but the core function doesn't change. If you're not sure how to properly gauge the cost to build a patio in Sarasota, we've got you covered.
How Size Affects the Cost of Patio Installation
As you might expect, the bigger your new patio installation, the more it will cost.

Kind of.

Strictly speaking, larger patios require more of everything - more material, more labor, more time. If you don't need the space to host gatherings or capture large outdoor furniture, you may not need to spring for grand-scale patio installations.

If you're on the fence between comparable options, a larger patio may make sense.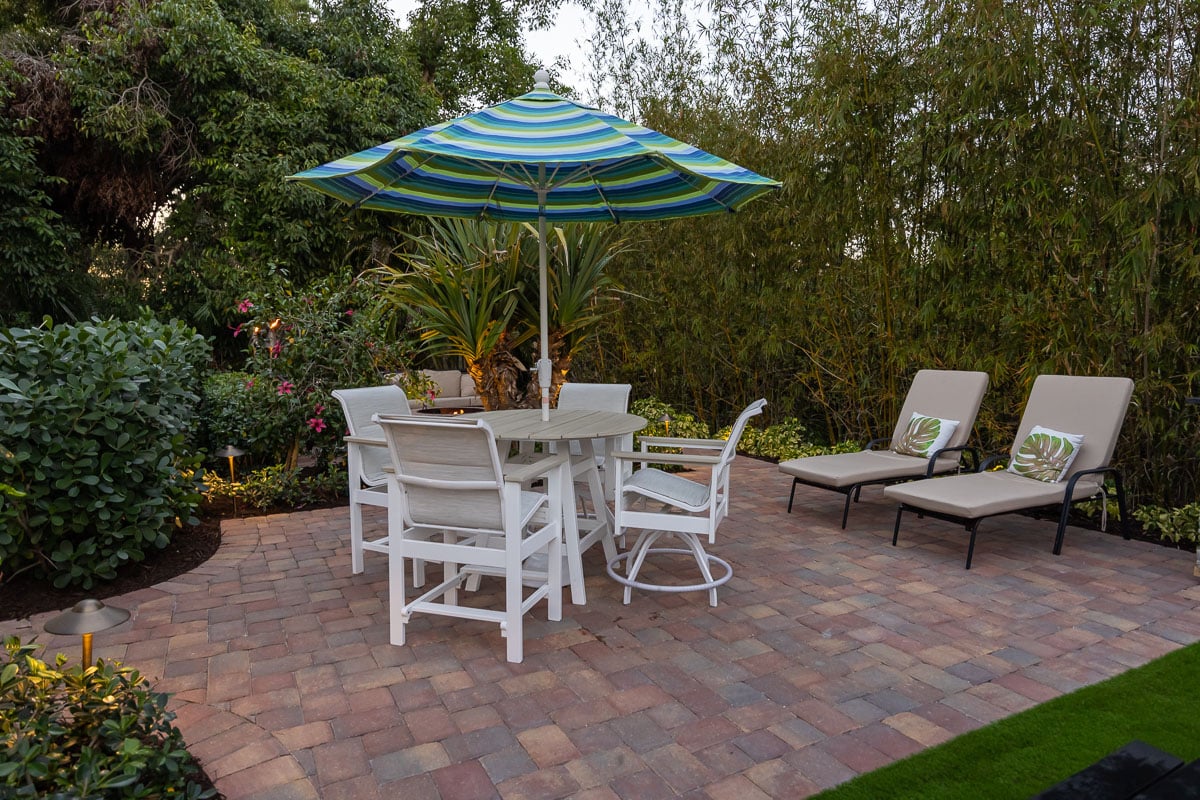 Landscaping projects are subject to economies of scale, and we measure and price our patio installations on a price-per-square-foot basis. Like anything else, the unit cost to build a patio decreases as your installation increases in size.

If you're unsure about adding that extra bit of space to capture a grill or some extra seating, consider that a smaller installation will still require the same crews, the same equipment and the same material as a bigger plan.
Intricacy of Cuts, Patterns and Design
Interlocking concrete pavers are the go-to choice for outdoor living designs.

These products are available in a seemingly limitless range of colors, sizes and finishes. Creative installers can make use of different materials in the same space, turning basic patio spaces into backyard mosaics.

Similar to the size of your project, the intricacy of the design will affect the cost of patio installation.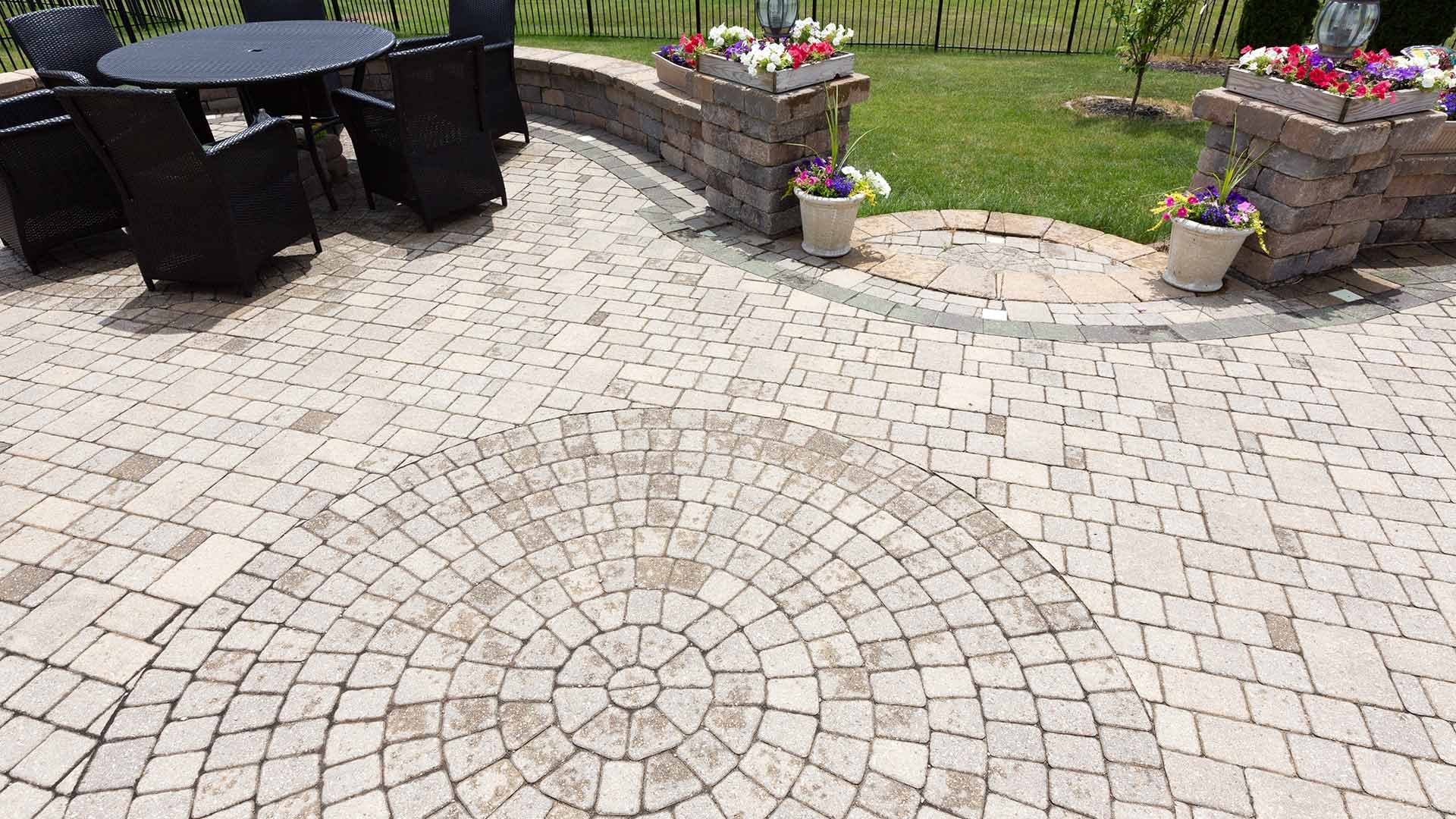 Patio installation is one type of hardscaping, or landscaping focused on the use of durable materials (stone, wood & other construction) as opposed to vegetation. Hardscape installations are construction projects, first and foremost. These time-consuming installations require a good deal of labor, which is one of the biggest cost considerations in any outdoor project.

A new patio installation that combines pavers of differing sizes and materials will require more time than standard projects. Patios with intricate designs requiring many cuts will produce waste material and take a good deal longer to design and install.
How Patio Installations Affect Home Value
If the cost to build a patio in your Sarasota backyard is the driving force behind your decision, you're not alone.

Inflation has taken a bite out of homeowners and contractors alike. While adding a new patio to your landscape is a good investment in your home, these projects aren't becoming cheaper.

Raw materials costs for concrete products have increased two- to three-fold in just the last few years. Interlocking pavers are cast concrete products, subject to the same price pressures as industrial building products.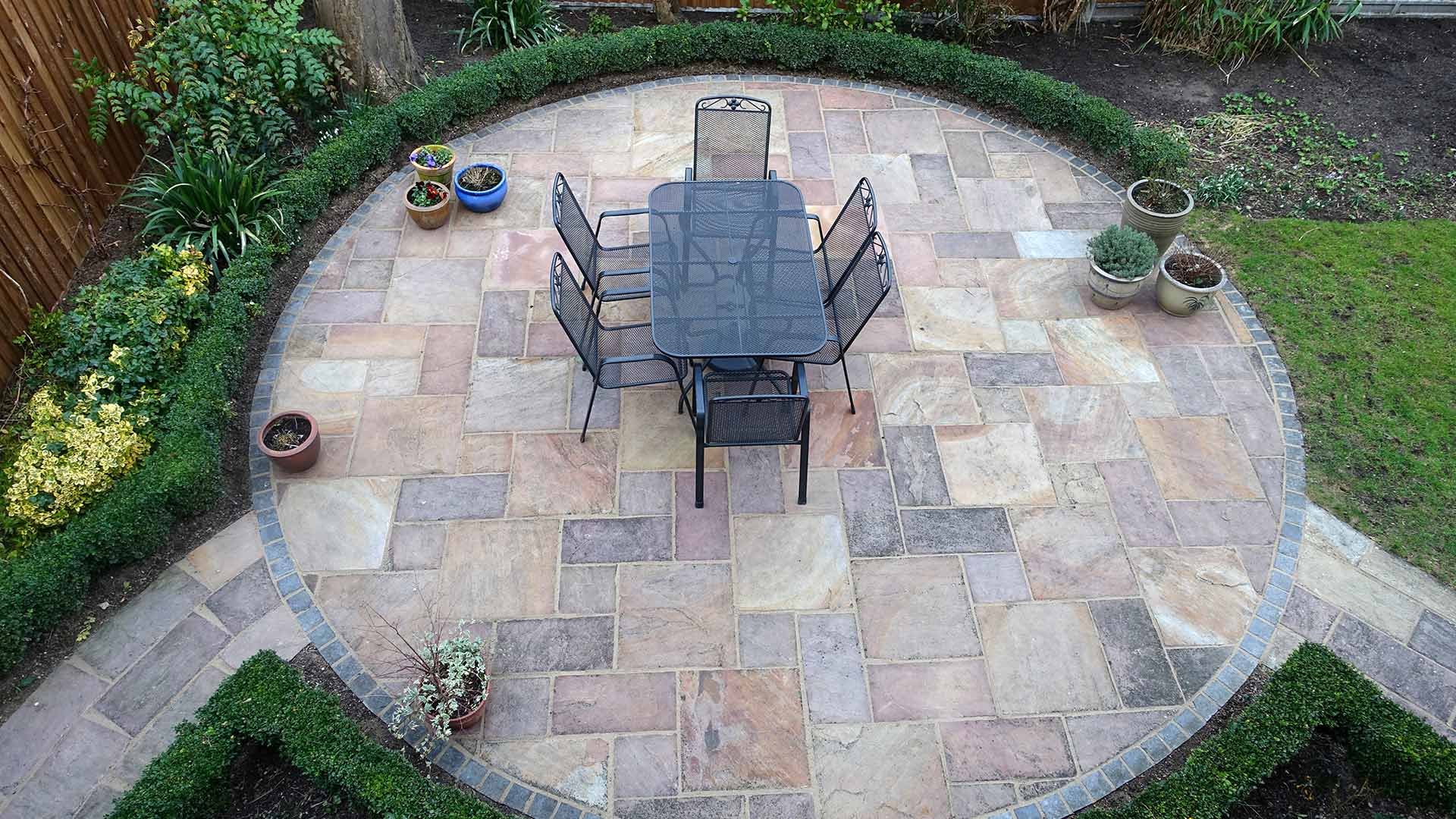 Hardscapes are large investments in general. Done right, they will provide some of the best bang for your buck in terms of landscaping projects. Outdoor gathering spaces are year-round features in Sarasota, and a must-have for vacation rental properties.

Patios are durable installations with lifespans measured in decades. If the upfront cost feels a bit steep, weigh it against your long-term goals for your outdoor living spaces.
Long-Term Durability (Or, Why We Don't Pour Concrete)
One question we often hear when discussing new patio installations is 'when will I have to replace it?'

Done right, the answer is never.

We recommend patios made of interlocking concrete pavers. While pavers are open to a range of finishes and patterns that you may not get with poured concrete or aggregate surfaces, their greatest benefit might be their durability.

Unlike poured concrete, pavers can move with the earth. While our installations aim to prevent this with proper bedding and compaction, sometimes we run into the unavoidable - tree roots, severe weather or utility work, to name a few.

When that happens, interlocking patio pavers can be fixed in a targeted way - reset the base under the affected slabs, reset and off you go.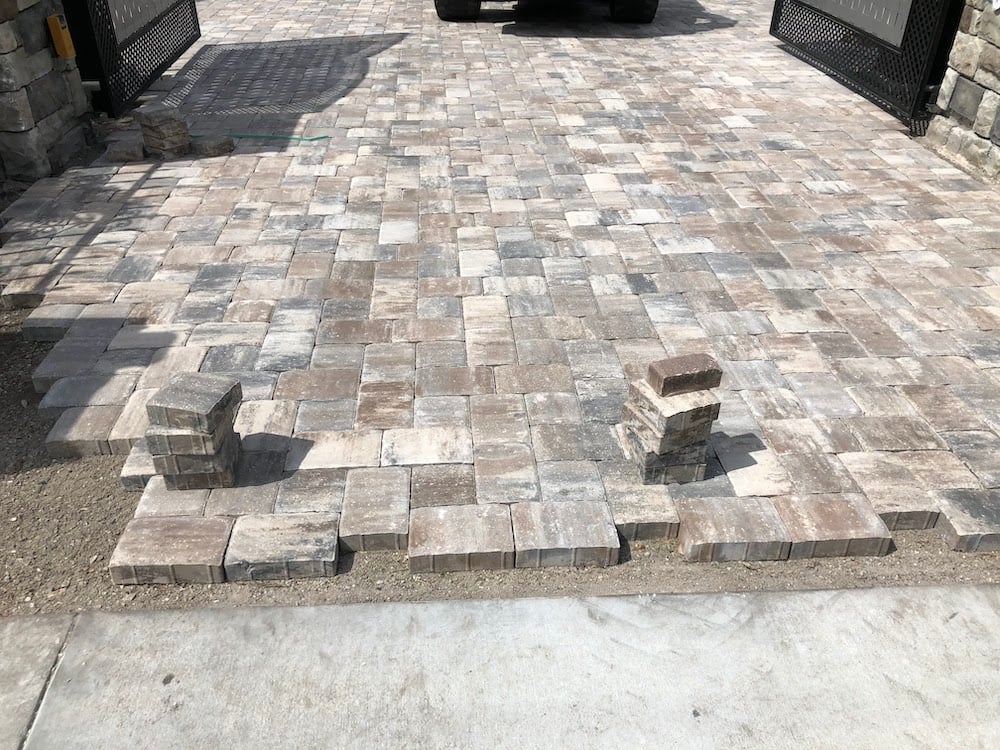 Poured concrete is susceptible to cracking - it's not a matter of 'if,' but 'when' and 'how badly?' Repair options include unsightly patching or full-scale replacement.

With paver patio installations, long-term success includes the flexibility to make targeted repairs should the need arise.
Design & Presentation of New Patio Installations
One of the best ways to visualize new projects is through landscape design. These are commonly used to lay out new plantings, and range from hand-drawn overhead views to full 3D design.

Most patio proposals will come with a price, and some product brochures from the paver manufacturer, if you're lucky.

Tropical Gardens offers full CAD-based design for all hardscape installations, including patios - something our competitors cannot say.

That means we send our guys into the field with a detailed schematic of your new installation. Not only does that information allow them to build to suit accurately, but our clients get a full presentation of the finished product before the first shovel breaks dirt.
How Does a Patio Fit Your Larger Landscape Picture?
By fully incorporating your new patio installation into our design plans, you not only get a good look at your new gathering spaces, but how they fit into the bigger picture of your entire landscape.

The best landscapes combine landscape elements of all types, from hardscaping to gardens to turf. Patios are often central to outdoor living areas, providing a gathering space where you and your family can relax and take in views of the rest of your backyard.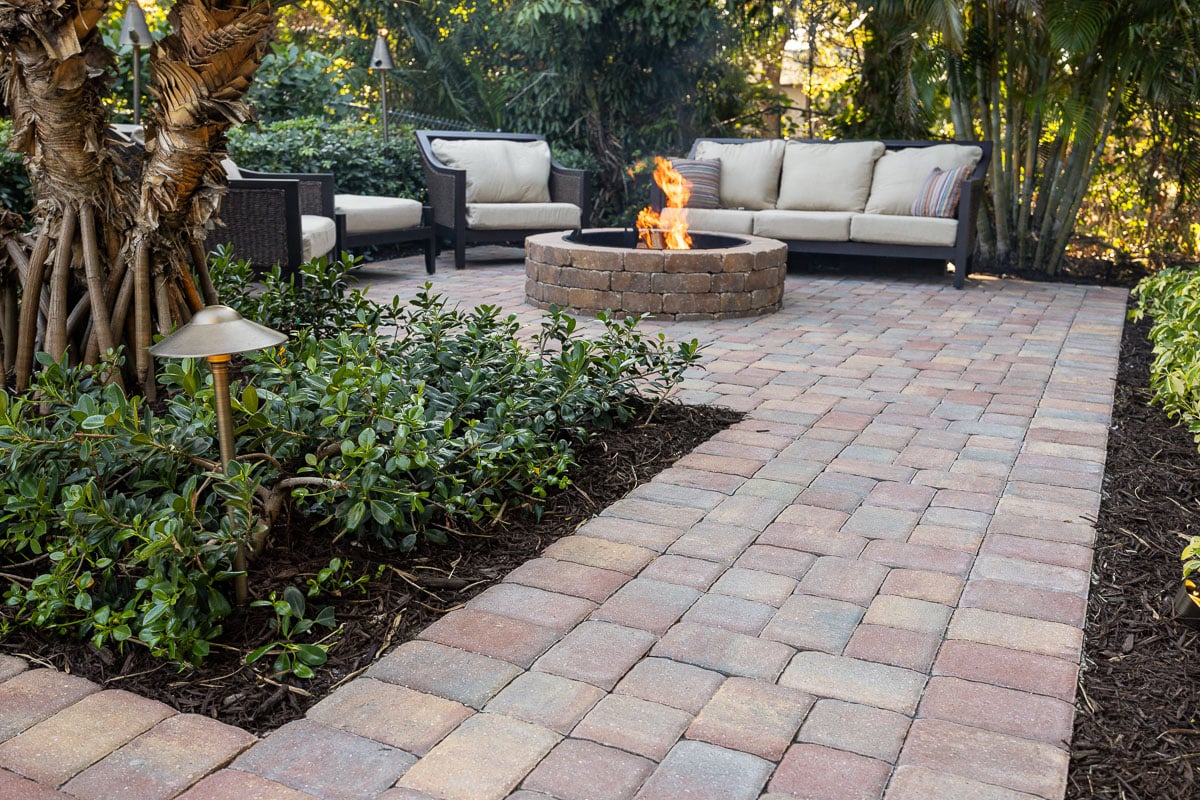 Before deciding to spend your hard-earned money on a new patio installation, we want you to picture the time you'll spend outside with views from the best seat in the house.

As you search for the right patio solutions for your home, consider the project in the short-term, but your whole home in the long-term.

How will this new installation affect your home's value? What is the value of time spent outdoors, and how can you incorporate outdoor living elements like patios to improve it?

Tropical Gardens has helped homeowners in Sarasota, Florida install new patios of all shapes and sizes, to suit every individual goal.

Give us a call today to get started on your new patio installation. Our team of certified designers can help you navigate the tricky questions of patio costs while keeping an eye of your biggest goal, improving your home and gardens.