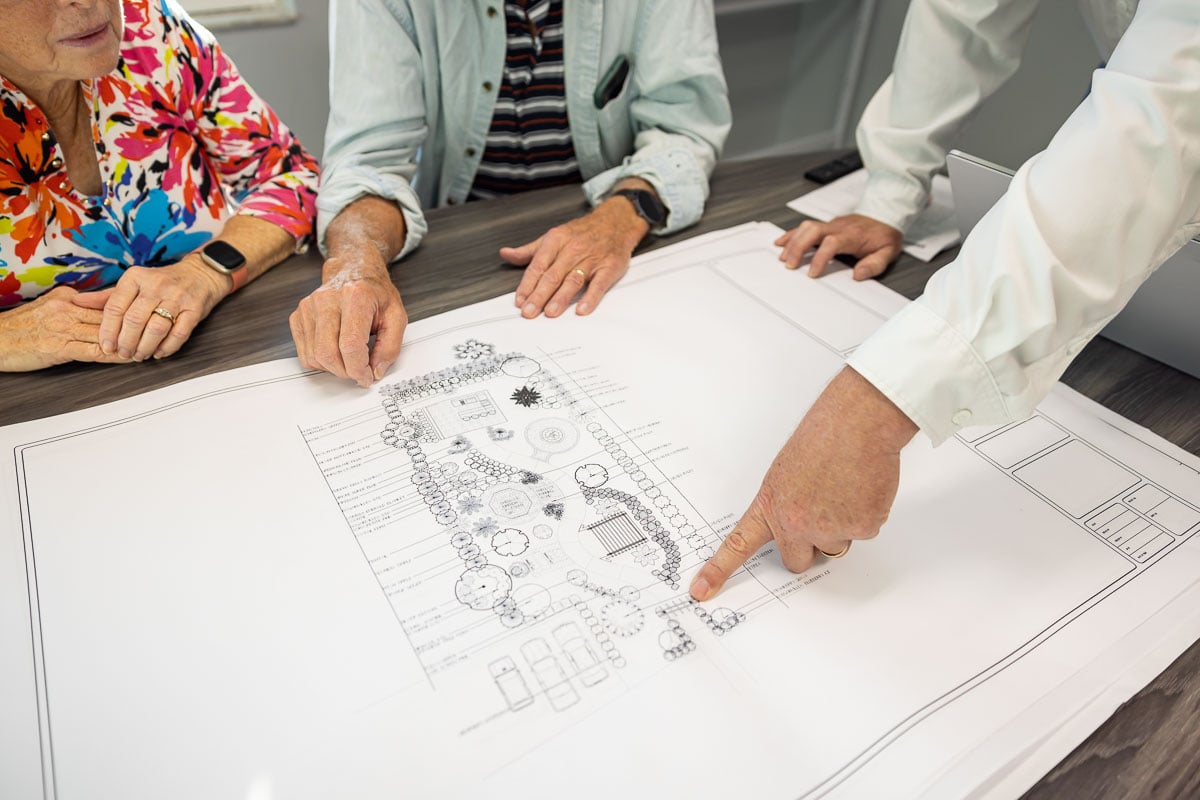 How to Plan Your Landscape Design From Start to Finish
Planning a landscape can be pretty overwhelming.

Should you include a patio? How big should it be? What plants will grow in your yard? What about lighting? When you host your first backyard party, should you serve brownies or strawberry shortcake for dessert?

First, take a deep breath. Second, definitely serve both. Third, you've got this.

Every great landscape starts with a detailed plan. And you're not in this alone.

Our landscape design team helps put your ideas on paper and guides our crews during the installation process, ensuring your new landscape begins and ends just the way you want it to.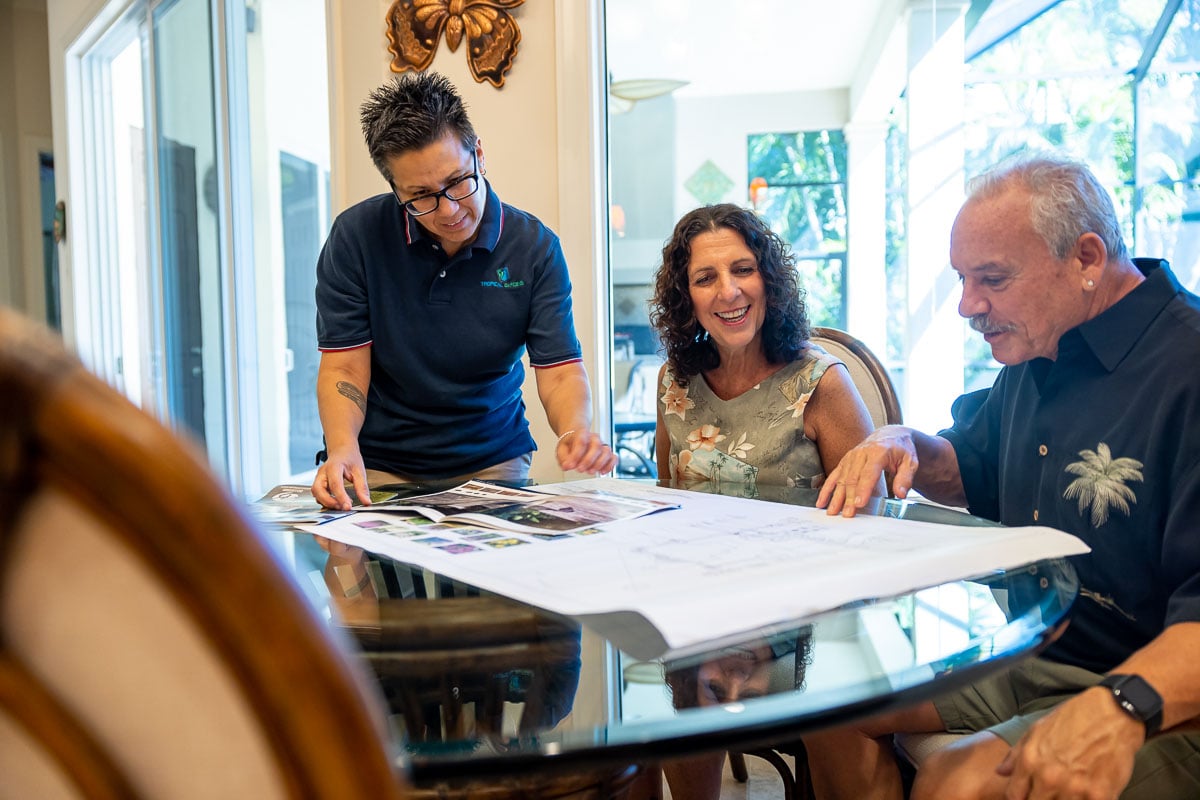 How to plan a landscape design?

Here's what happens:
First, Do Some Homework
Don't start sweating, there's no algebra involved.

But you need to come to your landscape planning session with some information that will help us create your perfect outdoor tropical paradise.

Here's a great example: we don't want to build a 10 by 10 foot patio then find out you're buying a 14 foot L-shaped couch for it.

That's bad landscape planning.

Instead, do your furniture shopping first. Write down the measurements so we can make sure your outdoor space accommodates it.

Think about what color flowers you like. Love pink, but hate red? Daydreaming of a garden awash in purple? Write that down.

What plants do you love? Not sure? Stroll around your Sarasota neighborhood and snap photos of plants that catch your eye.

Check out Pinterest for landscape planning ideas, as long as you're not afraid of logging in, then realizing three days later you haven't eaten or showered. (It has a way of sucking you in.)

Do you have a great view? Think about ways your landscape planning can take advantage of it. Do you want to admire it from an expansive patio? A charming pergola? A hammock strung in a grove of palm trees?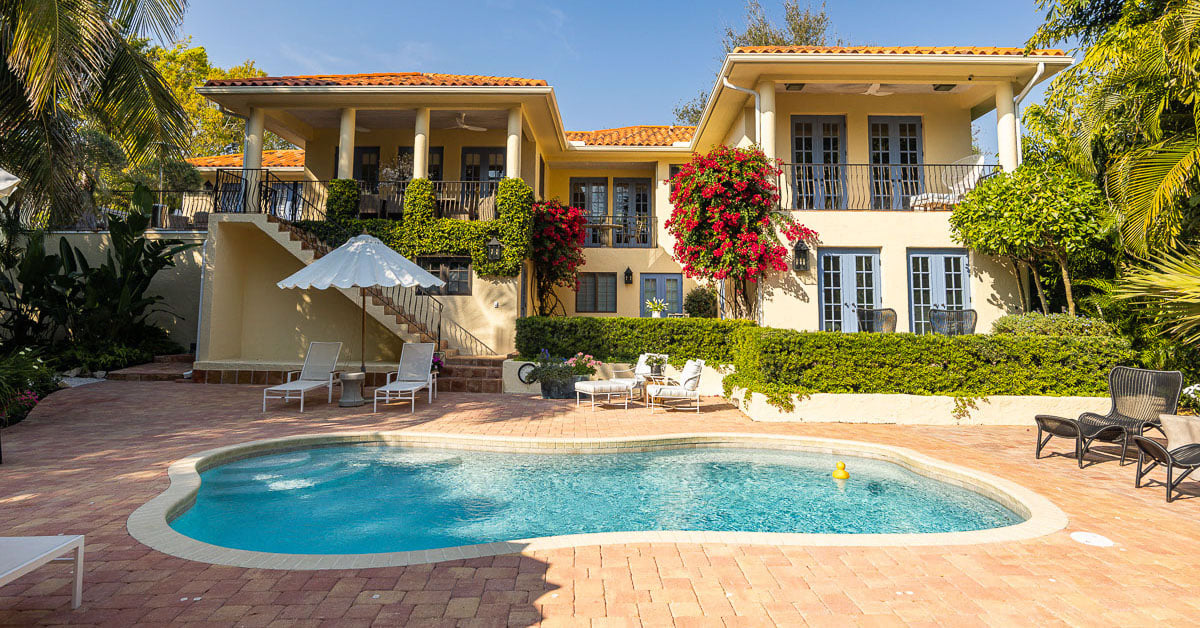 Next Up: We'll Stop Over
We'll meet you at home, on your schedule. This initial consultation lets us get to know your property, from taking measurements to checking out the lighting conditions in your yard.

Here's where you can hand over all those ideas you jotted down. (It's OK if you wrote them down on the back of a Chipotle bag.)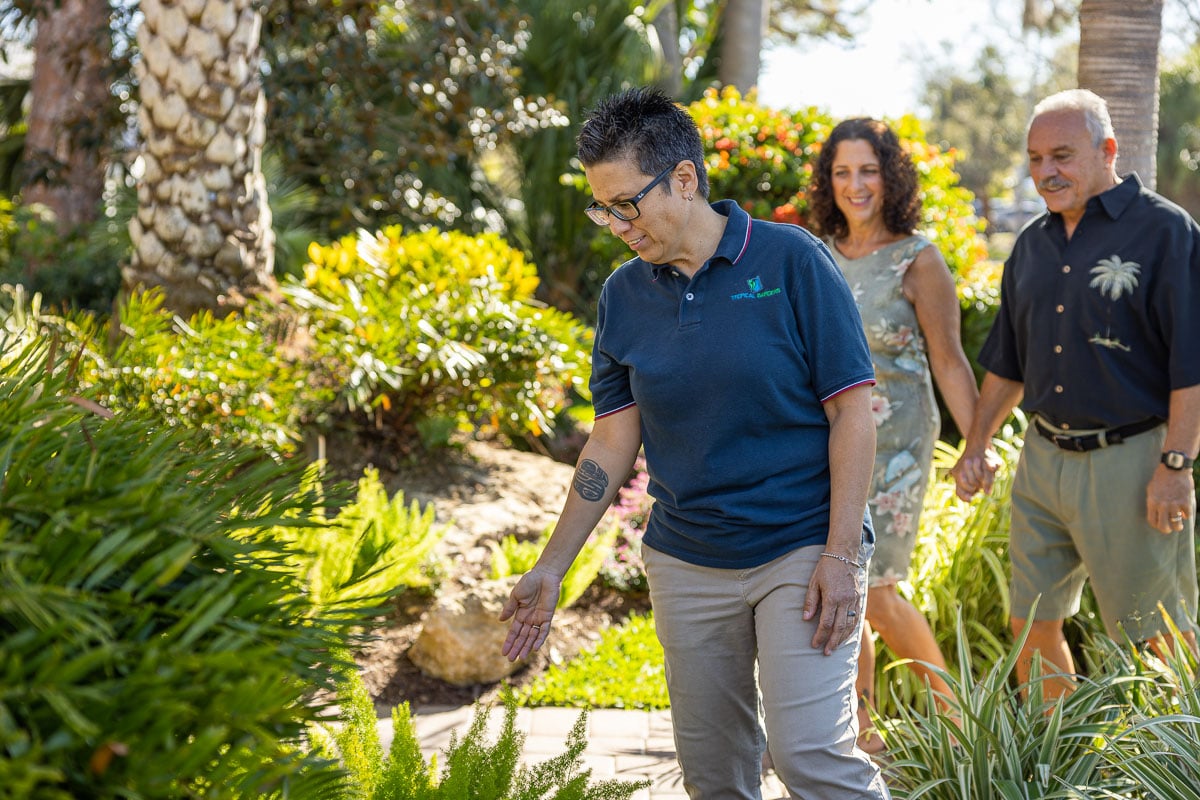 Expect a Lot of Questions
Again, no algebra. But we'll ask a lot of questions about your landscape planning hopes and dreams.

Are you hoping for a patio? A pergola? A tiki hut?

What will be going on out there?

Big neighborhood bashes where somebody ends up spending the night on your flamingo pool floaty? Quiet morning meditation sessions? Preschool soccer practice?

Your lifestyle offers big clues to designing a landscape perfect for your needs.

After this initial meeting we'll email you a summary of what we discussed, and we'll add all your thoughts and photos to a file for reference as we work on your landscape design.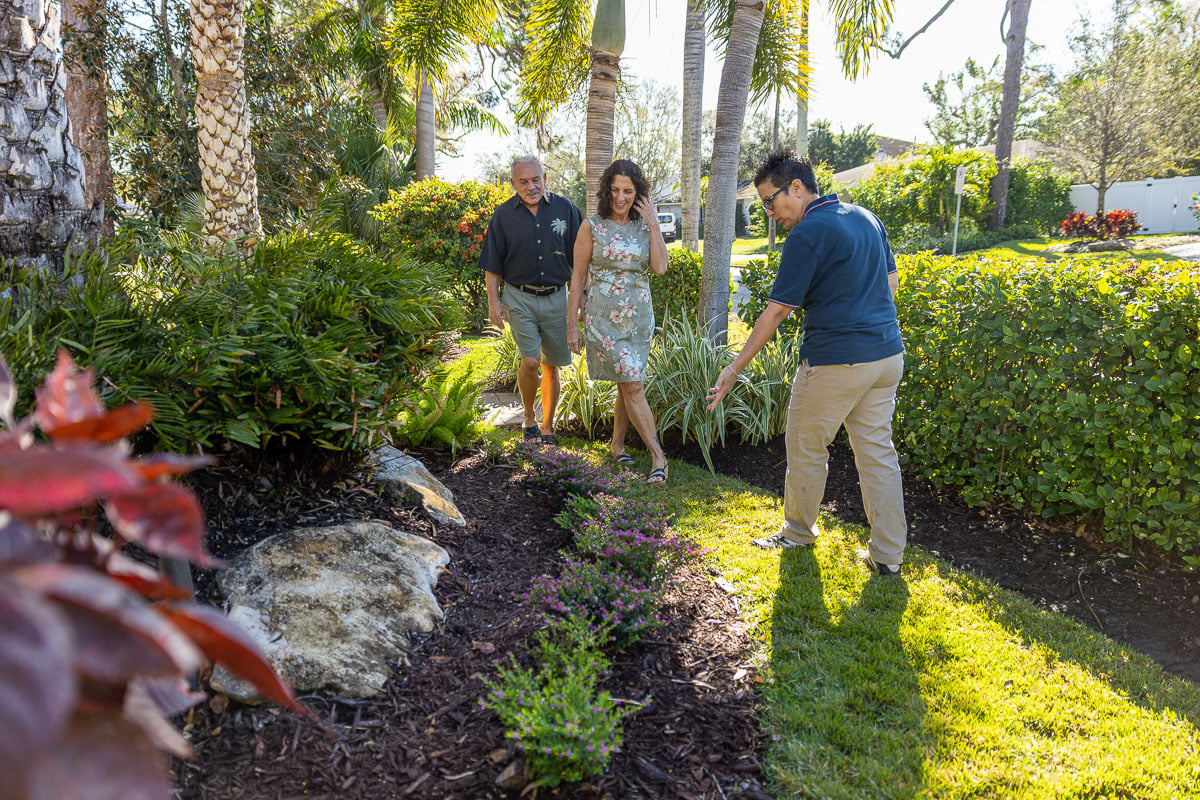 Don't Get Hung Up On Budget
Don't fret about giving us a budget to work with up front.

That's not how we approach designing a landscape.

If you give us a budget, we have to design around that, potentially leaving out some things you'd really love.

We'll create a design based on the landscape elements you really want.

When you get the plan, everything is itemized. You'll know how much each individual feature costs, from the fire pit to the putting green to the water feature to the heliport. (Just kidding. You don't even golf.)

So you can decide, if needed, what you can live without and what areas are must haves.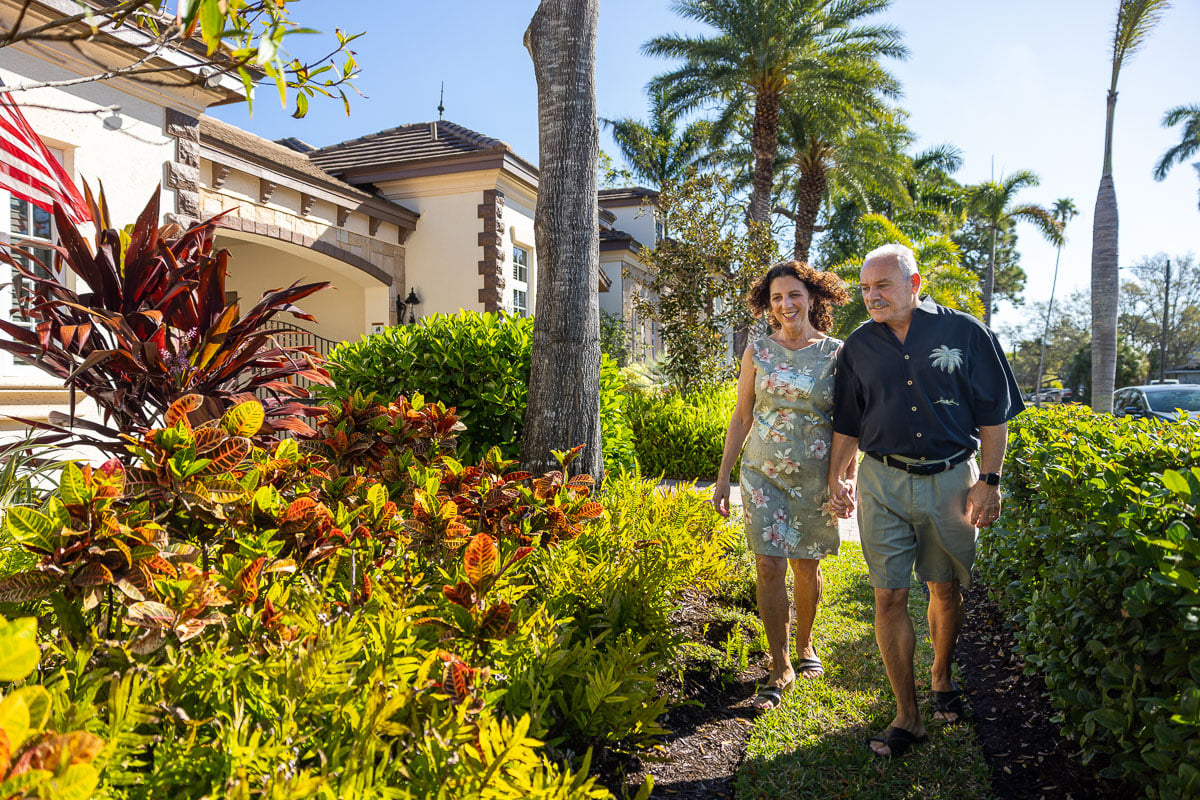 Next Up in Landscape Planning: We Get to Work
Our landscape design team will produce high-quality drawings or 3D renderings, complete with plant lists, stone and hardscape selections, and a detailed proposal.
The Plan Arrives! Woo Hoo!
Once your plan is complete, we'll email it to you, but a heads up that you won't love trying to look at it on your computer screen.

We can print out the plan on a big 24 -by 36-inch sheet and bring it to your home so we can stroll your property together and walk through each element. If something's not quite right, now's the time to change it.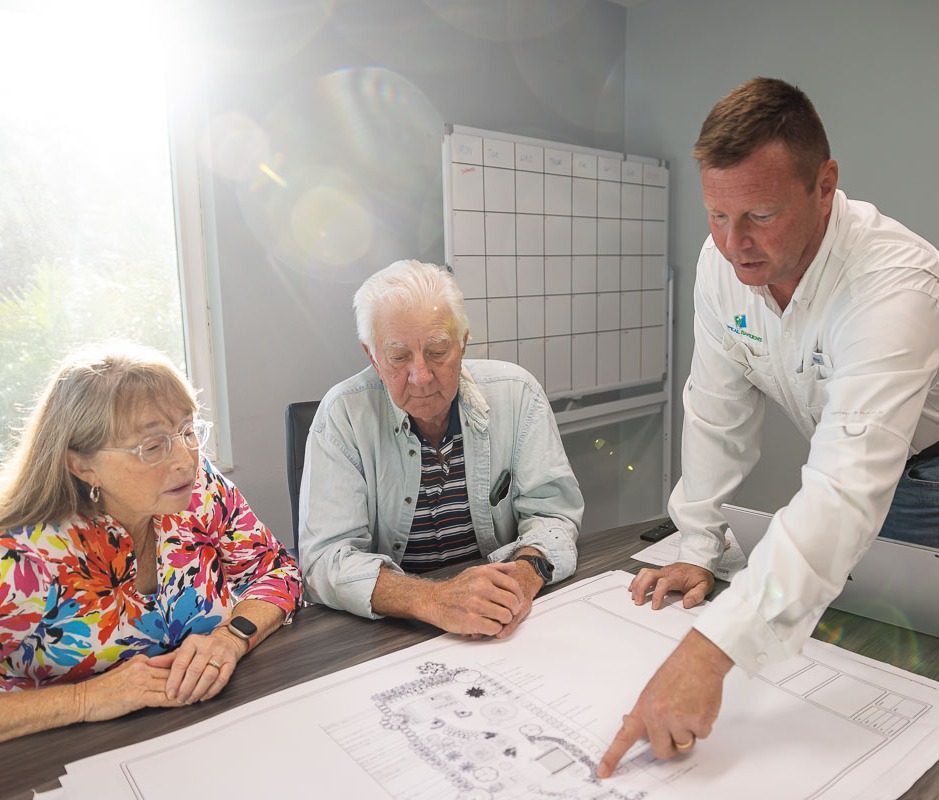 When everything looks good and you approve the plan, your design heads to our production teams as they prepare to get your new landscape renovation underway.

It starts to move fast. We order your plants and materials right away. You can't wait to get started, and neither can we!
Ready for Your Exciting Sarasota Landscape Planning? Talk to Us

If your landscape planning suddenly starts to seem like a real possibility, that's because it is.

Let's get started. We'll help you figure it all out.


Give us a call today! Our team of Sarasota designers can't wait to design the perfect outdoor haven for your backyard or vacation rental property.