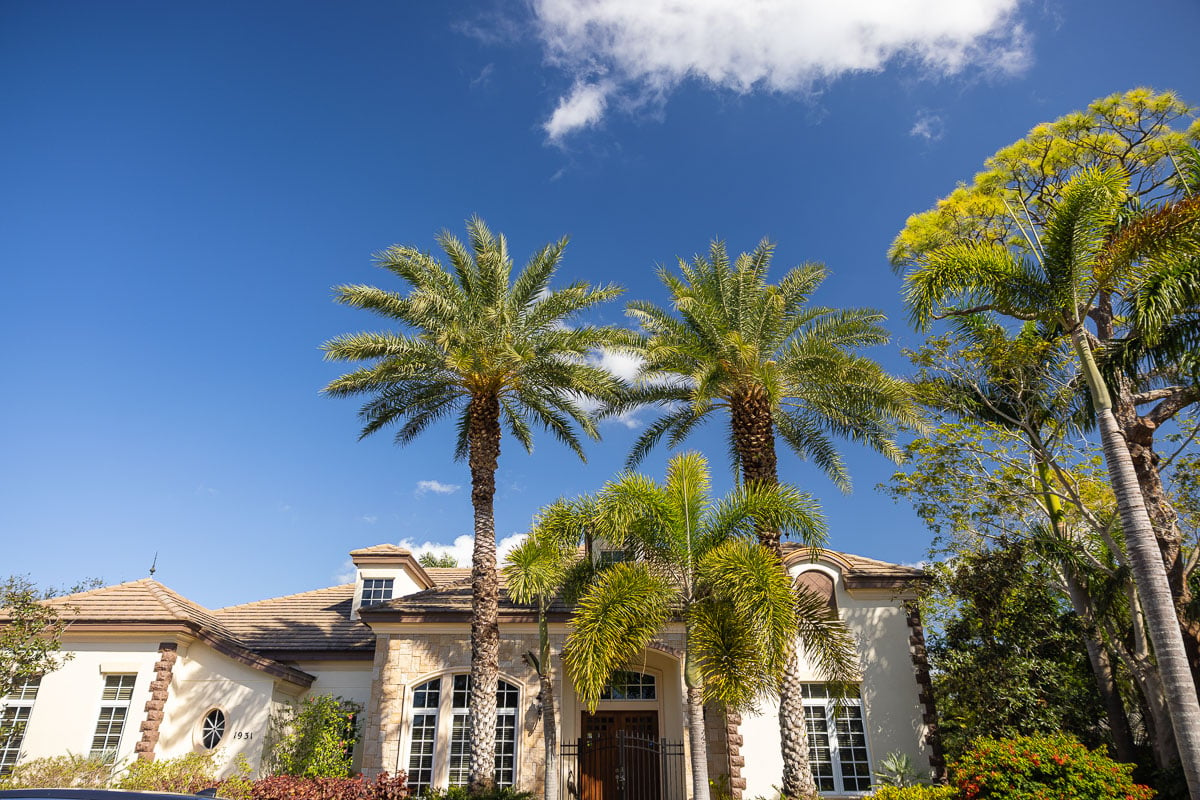 5 Tricks to Landscaping with Palm Trees Near Sarasota FL
What's cool about landscaping with palm trees?

Everything!

Here in Sarasota, tropical palms offer the vacation resort vibe everybody craves.

They're perfect for pool decks. Pass the piña coladas. (Two little paper umbrellas, please.)

Palms make a statement in your front yard; look majestic lining your driveway; and a grove of them, in a variety of types and heights, will knock your sandals off.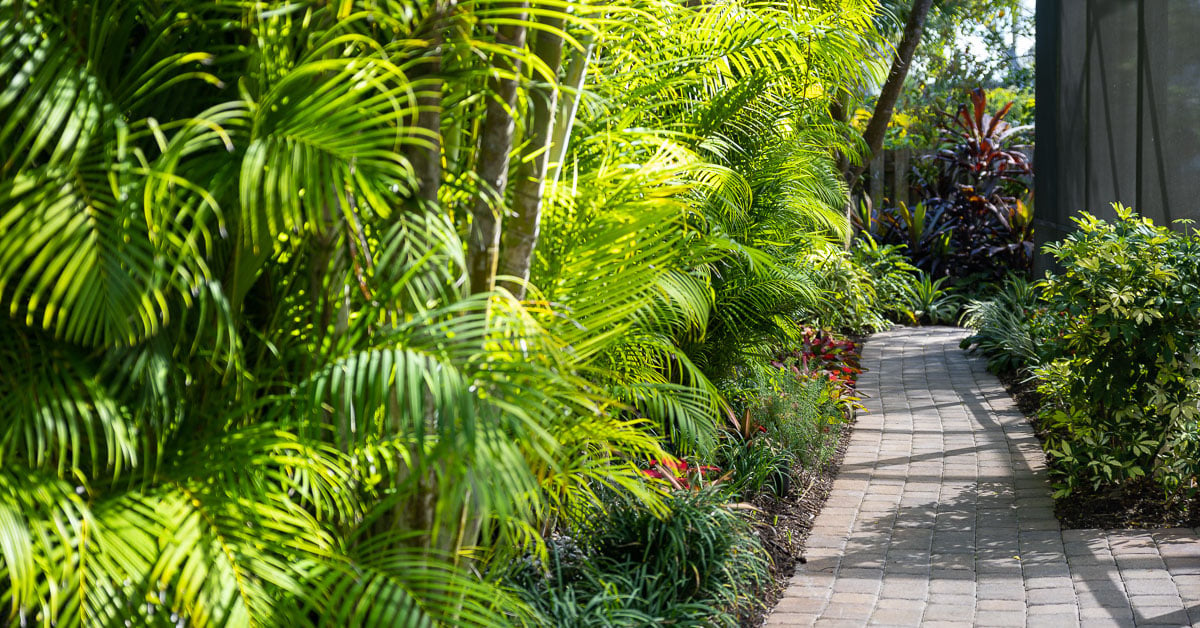 And if you're seeking a conversation starter for the back patio, there's a variety called Old Man Palm that grows a beard. A beard!

Sold, right?

Ready for cool landscaping ideas with palm trees? Want to know some common pitfalls to avoid?

Let's get to it.
1. More is Always Better
One palm is cool, but a whole grove is amazing.

When you're planning your landscape design with palm trees, layer heights, shapes, and sizes for impressive interest. Install them at varying heights so they'll always be staggered in size.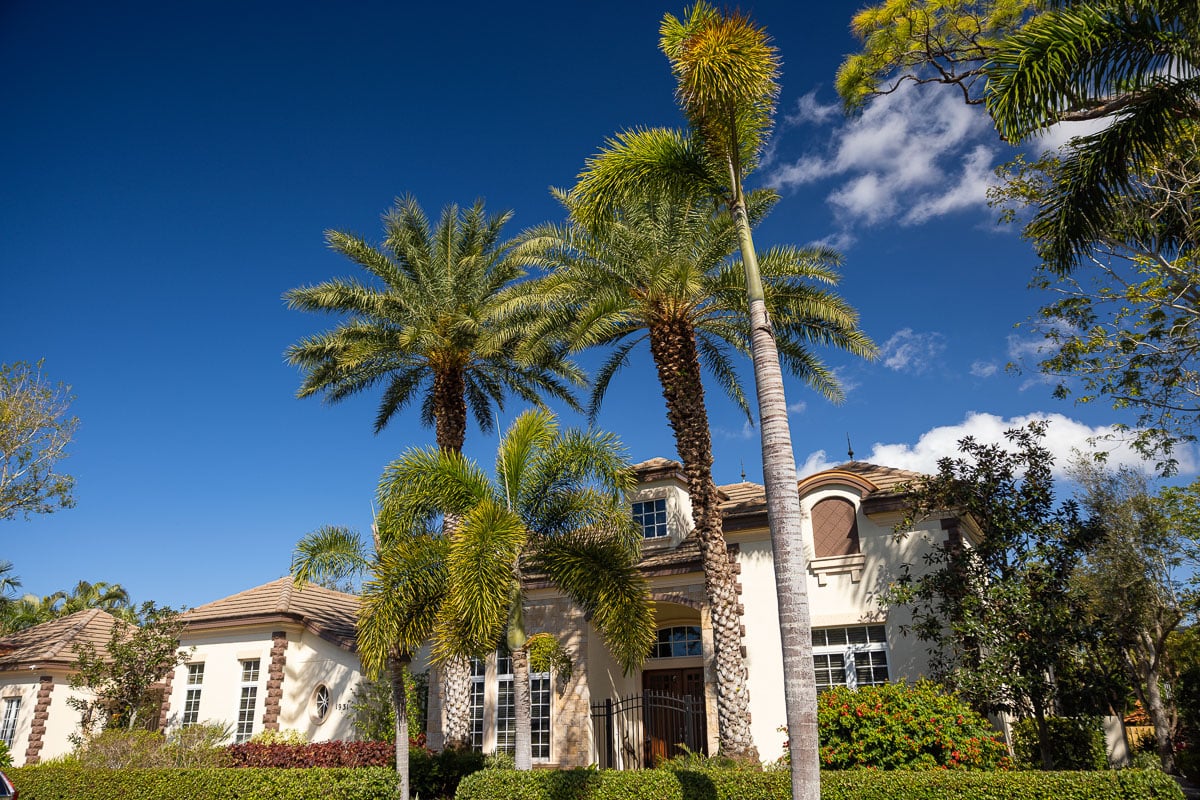 2. Want a Palm, But Short on Space?
Not all palms reach for the clouds. Some stay smaller, like the Pygmy Date Palm, the Princess Palm, and the Bottle Palm, with its super cool curvy shape (more on this beauty in a minute.)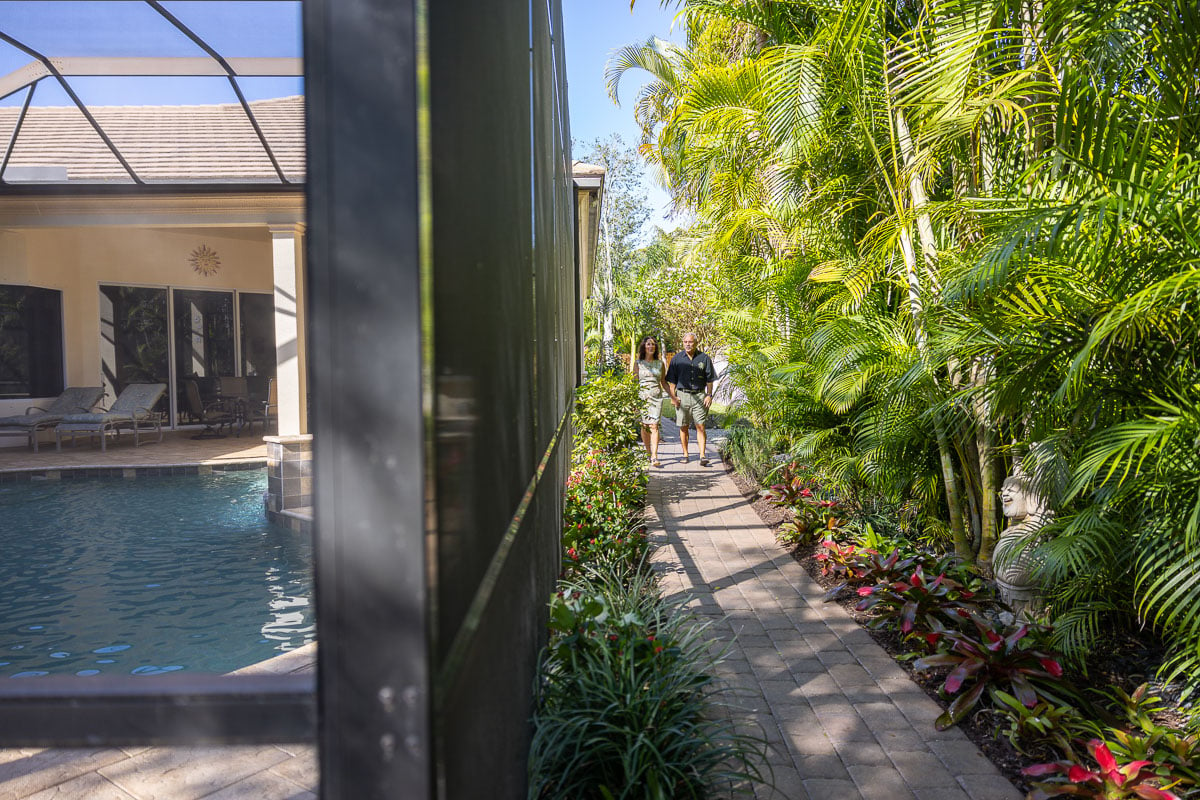 3. You Can't Go Wrong with These Superstar Palms
So. Many. Palms. How to choose?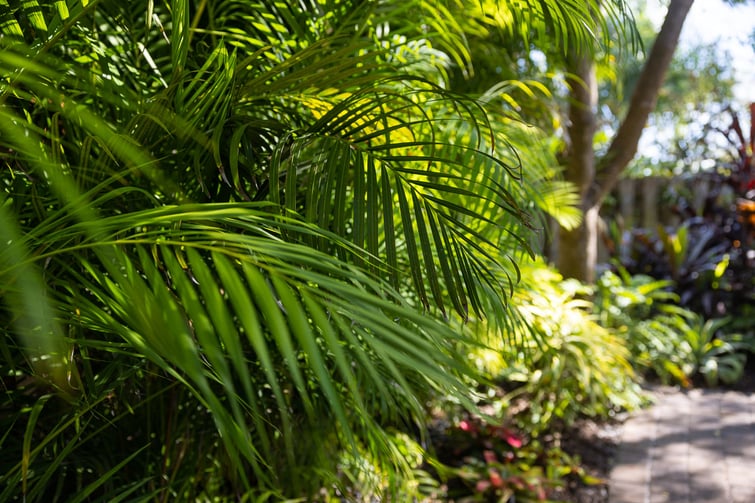 Check out a few of our faves for landscaping ideas with palm trees:
Coconut Palms
Nothing gives tropical vibes like a coconut palm.

We love the Maypan Coconut Palm. Look up. And up. They can grow to 50 feet tall. They're famous, too. This is the classic palm you see in a lot of movies and TV shows.

Rich green fronds arch up and out, with coconut clusters showing off underneath.

This beauty is great to anchor a corner of your property, line your driveway, or say hey from your pool deck.
Foxtail Palm
Everybody loves the Foxtail, with its fluffy fronds that look like the bushy tail of a fox.

You can find this one with a single, double, or triple trunk

A triple trunk looks great if you have an empty space out front between two windows. Stunning focal point.
Christmas Palm
A nice smaller palm, this festive-sounding variety is great if you have a single story ranch, not a soaring two-story house.

It doesn't get quite as tall as other palms, so it can make a cool statement without overwhelming your space.
Bottle Palm
This one's a beauty, with a trunk shaped like an antique bottle. As it matures, it gets more and more bottle-shaped.

Perfect for a smaller space, the Bottle Palm is slow growing, and tops out at about 10 feet at maturity. But be patient — that'll take years. Most hover around 5-7 feet tall.

Another small-space plus: this palm only grows 4 to 6 fronds with arched, feather-shaped leaves. So it doesn't hog space like some fuller palms do. It has a small, shallow root ball, too,

Want perfection times three? Get one with a triple trunk.
4. Know the Size Before You Plant
This should be in capital letters, it's so important. What the heck: KNOW THE SIZE BEFORE YOU PLANT.

Some palms grow to be 20, 30, 40 feet tall, with massive root balls. Do you have room?

Better to know now, as you plan your landscape design with palm trees, not in five years, when you have to hire an excavator to haul it out.

Areca Palm and Royal Palm are especially misunderstood and often installed incorrectly.

Areca Palms, with their full, dense fronds, can grow to 10 feet wide.

People buy one as a cute little guy, 3 feet tall, and plant it a couple feet away from their pool. Five years later it's lifting up the pool deck like the Incredible Hulk and we have to come excavate it.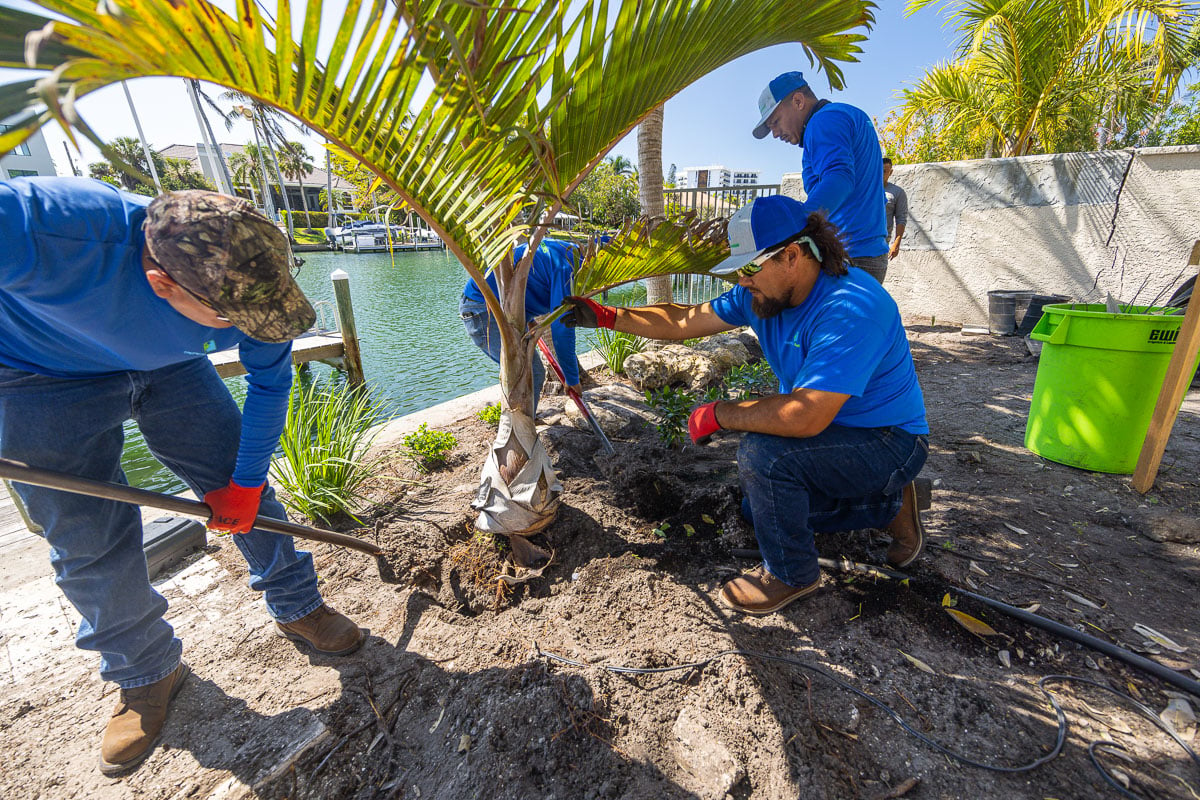 A mature Royal Palm has a 10 foot by 10 foot root ball. Think about that for a minute. It's massive.

Yet homeowners routinely install them six feet away from their driveway.

Next up: it's actually pushing your driveway pavers up off the ground or cracking and heaving the concrete.

A Royal Palm can also have a 2.5 foot diameter trunk. It can overpower a smaller property. Make sure it suits your yard as you plan your palm tree landscape design.

Know not just the eventual height of your palm, but the size of its trunk and roots, before you plant.
5. Choose Self-cleaning for Easier Maintenance
A self-cleaning palm means that the older, dead palm fronds will fall away from the trunk on their own — no need for pruning.

When the frond dies, it falls down and you pick it up.

Palms that aren't self-cleaning require occasional pruning to remove the brown fronds after they die.

It's not a huge deal, but it can be kind of a pain — literally. Sharp spikes at the base of each Pygmy Date Palm frond are sharp enough to draw blood when you reach in to trim it.

All the favorites we list above are self cleaning. (We don't want your blood on our hands.)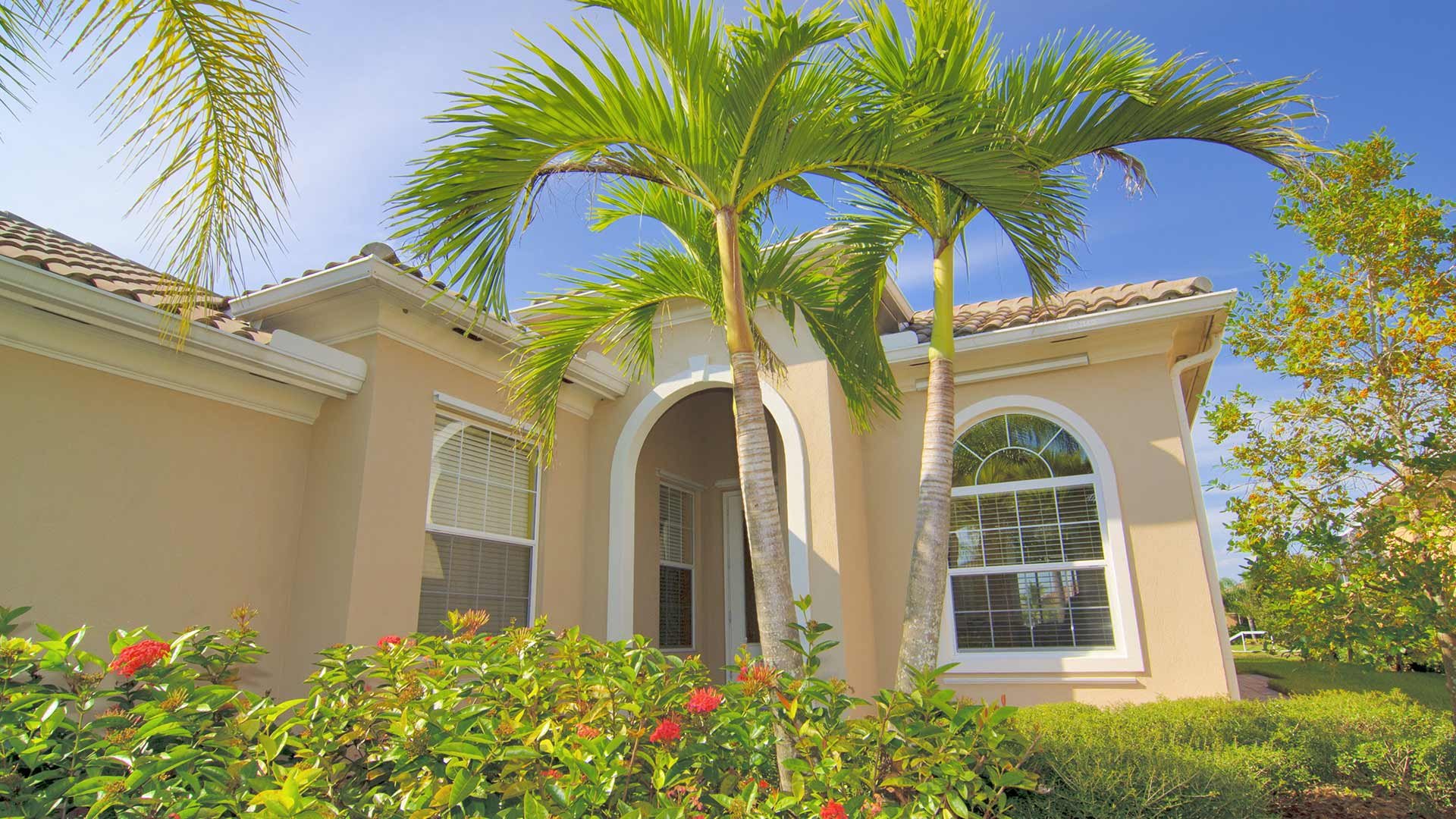 Ready for Stunning Palm Tree Landscape Design? Talk to Us
No need to worry about sharp spines or stress-inducing monstrous root balls.

Leave your Sarasota palm tree landscape design to us.


Let's get started. We'll help you figure it all out.

Give us a call or fill out our form today! Our team of Sarasota designers can't wait to design the perfect outdoor haven for your backyard or vacation rental property.